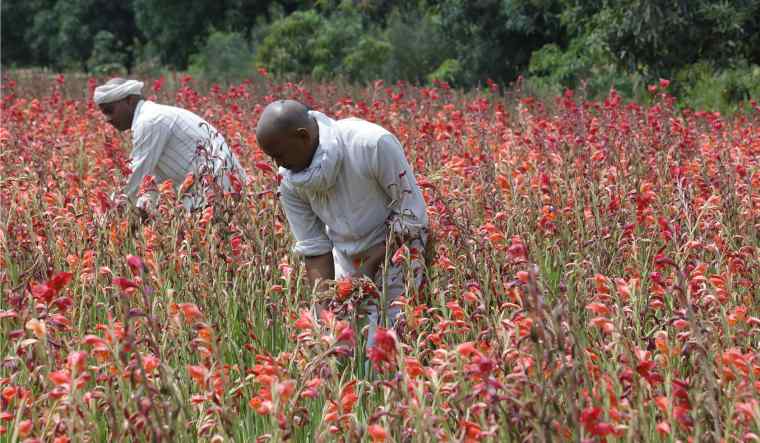 Times have never been so rotten, say flower growers as the sight of wilting flowers across fields during the nationwide lockdown are driving them to despair. If the government does not step in to help them, these floriculturists might be forced to discontinue flower cultivation.
Ram Chander, a 40-year-old flower grower in the village of Ramnagar (Mal block, Lucknow) has been feeding his crop to cattle. He has also asked friends and neighbours to take it away for free. His crop consisted of one acre of gladiolus and half an acre of marigold flowers. Last year, he made a profit of around Rs 1.25 lakh. Buoyed by the margin, Ram Chander took out a loan of Rs 90,000 on his Kisan Credit Card to get better quality seeds to sow this year. For 11 months, he left 25 packets of seeds in a cold storage paying Rs 34 per month for every packet stored.
"This was to be a very good year based on the days of sahalag (auspicious dates in the Hindu calendar). I had grown my flowers to mature in three shifts. I would have sold them till June and earned double of what I did last year," Ram Chander says.
Ram Chander's first crop was ready by the third week of March, in time for Navratri which started on March 25—the same day on which the country went into lockdown. The junta curfew before that ensured that he did not sell a single flower.
According to the advance estimates on area and production of horticulture crops for 2018-19 issued by the National Horticulture Board, 33,900 hectares under flower cultivation would have clocked a produce of 28,580 metric tonnes [http://nhb.gov.in/statistics/State_Level/2018-19(1st%20Adv).pdf]. The Agricultural and Processed Food Products Export Development Authority (APEDA), the body responsible for export, promotion and development of floriculture in India, puts the value of exports by the country at Rs 571.38 crores/81.94 USD millions in 2018-19 [http://www.apeda.gov.in/apedawebsite/SubHead_Products/Floriculture.htm]
A comparatively higher per unit yield than most other field crops has made flowers an attractive crop option for mid-size farmers like Ram Chander. Like most flower growers in Lucknow's vicinity, he would bring his crop to the state capital for sale. The marigold went for anything between Rs 10 to Rs 50 per kilogram. The local varieties of gladiolus fetched Rs 4 per stick with the better quality ones, the kind in which he invested this year, sold for Rs 10-14 per stick.
In the same block, from a neighbouring village called Wajid Nagar, 42-year-old Ramesh Kumar, who shifted to flower production about a decade ago, says that the stench of loss will linger long after the pandemic is over. "Since I was introduced to growing flowers by a friend, I have not known how to grow anything else. Flowers are my life but this year I have had to force my cattle to eat them," he says.
Ramesh Kumar estimates that this year's profit would have stood at Rs 1.25 lakh. Now he stares at the task of repaying the loan of Rs 1 lakh that he took on his Kisan Credit Card (at a rate of interest of 4 per cent) and the more frightening prospect of postponing his daughter's wedding indefinitely.
"The seven other members of my family do not even have the heart to look at the fields. I doubt that many farmers, for whom this is the first or second year of flower cultivation, will be able to bear the losses. The chief minister's residence is 18kms from here. If there was a way, I would have heaped my flowers at his doorstep," he says.
Unlike roses—another popular flower grown in the area—gladiolus cannot be dried and stored for future cosmetic or medicinal use.
On Sunday, the Indian Air Force threw flower petals over Lucknow's King George's Medical University and the Trauma Centre of the Sanjay Gandhi Post Graduate Institute of Medical Sciences to honour the doctors and medical staff at the forefront of the battle against COVID-19.
In Kakori, another block of Lucknow, Dharmendra Kumar, a 20-year-old second generation flower grower, says he has never experienced anything like the loss he sees now. "My 55-year-old father says we have battled bad weather, low demand and inflation, but never something like this. Ours was a trade of joy and celebration, but we can only mourn now," he says.
Dharmendra says that the government must pay attention to the sector. "At the very least, our the interest on the loans must be waived off and we must be given seeds for the next season," he offers.
In its absence, life's colours for flowers and their growers shall remain dim.