Will allow people with valid visas into the country: US state department
Express News Global
Earlier today, the U.S. State Department said it will allow people with valid visas into the United States.
By: Reuters | Washington | Updated: February 4, 2017 9:37 pm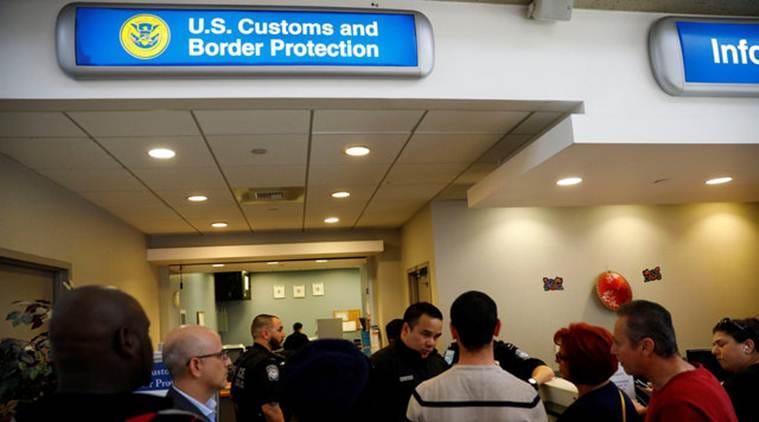 U.S. Customs and Border Protection officers stand outside an office during the travel ban at Los Angeles International Airport (LAX) in Los Angeles, California, U.S., January 28, 2017. REUTERS/Patrick T. FallonWashington: The Department of Homeland Security will stop flagging travelers from certain countries targeted by an executive order from President Donald Trump, a spokeswoman said on Saturday, in order to comply with a federal court ruling. The Justice Department intends to file an emergency stay of the order at the earliest possible time, the Department of Homeland Security spokeswoman said.
Earlier today, the U.S. State Department said it will allow people with valid visas into the United States, in order to comply with an opinion from a federal judge in Seattle barring President Donald Trump's executive action.
We have reversed the provisional revocation of visas," the State Department official said in a statement. "Those individuals with visas that were not physically canceled may now travel if the visa is otherwise valid."
Meanwhile, US President Donald Trump on Saturday hit out at US federal judge James Robart's order blocking the president's call to ban on admitting travelers from seven predominantly Muslim countries into the country. Trump took to Twitter to express his angst against the order. "The opinion of this so-called judge, which essentially takes law-enforcement away from our country, is ridiculous and will be overturned!"
the court's ruling has given some hope to Middle East travellers but left them in uncertainty as to how long the new travel window might last. Earlier in the day an internal email was circulated among Homeland Security officials that told employees to comply with the judge's ruling. In the meantime, the White House said it would try to get a court to reinstate the ban that prompted the State Department to cancel visas for 60,000 or more people from the affected countries, causing widespread confusion at airports when some travelers were detained and others sent back.
The US embassy in Baghdad said they're awaiting orders on the next course of action as Iraqis were eager to know if their visa restrictions had changed. In a statement to news agency AP, the embassy said: "We don't know what the effect will be, but we're working to get more information."