This Day in History: Oct. 27close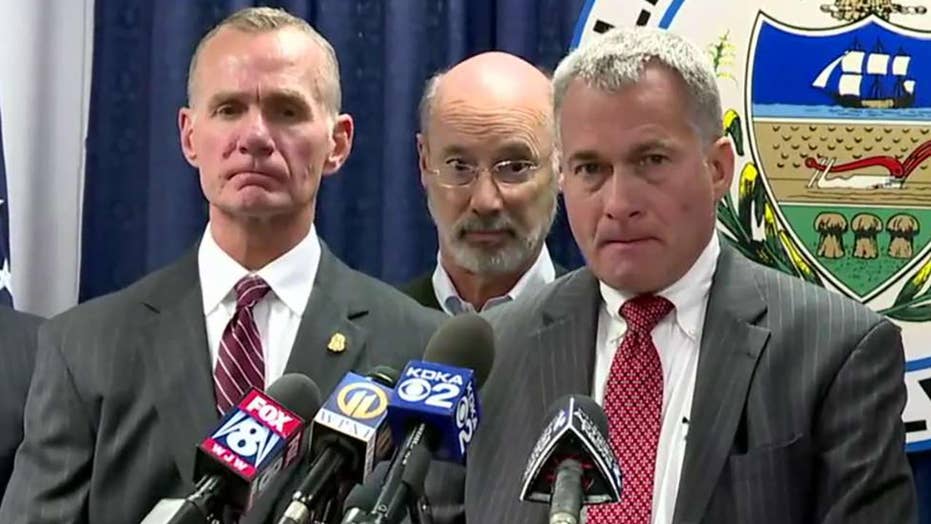 Video
Authorities say a gunman opened fire during a baby naming ceremony Saturday morning at the Tree of Life Congregation in Pittsburgh's Squirrel Hill neighborhood.
On this day, Oct. 27 …
2018: A gunman shoots and kills 11 congregants and wounds six others at Pittsburgh's Tree of Life synagogue in the deadliest attack on Jews in U.S. history; authorities say the suspect, Robert Bowers, raged against Jews during and after the rampage. (Bowers, who is awaiting trial, has pleaded not guilty; prosecutors are seeking a death sentence.)
Also on this day:
1787: The first of the Federalist Papers, a series of essays calling for ratification of the United States Constitution, is published.
1858: The 26th president of the United States, Theodore Roosevelt, is born in New York City.
1904: The first rapid transit subway, the IRT, is inaugurated in New York City.
1914: Author-poet Dylan Thomas is born in Swansea, Wales.
1947: "You Bet Your Life," a comedy quiz show starring Groucho Marx, premieres on ABC Radio. (It later would become a television show on NBC.)
1954: U.S. Air Force Col. Benjamin O. Davis Jr. is promoted to brigadier general, the first black officer to achieve that rank in the USAF.
1954: Walt Disney's first television program, titled "Disneyland" after the yet-to-be completed theme park, premieres on ABC.
1962: During the Cuban Missile Crisis, a U-2 reconnaissance aircraft is shot down while flying over Cuba, killing the pilot, U.S. Air Force Maj. Rudolf Anderson Jr.
1978: Egyptian President Anwar Sadat and Israeli Prime Minister Menachem Begin are named winners of the Nobel Peace Prize for their progress toward achieving a Middle East accord.
1995: A sniper kills one soldier and wounds 18 others at Fort Bragg, North Carolina. (Paratrooper William J. Kreutzer would be convicted in the shootings, and condemned to death; the sentence would be later commuted to life in prison.)
2004: The Boston Red Sox win their first World Series since 1918, sweeping the St. Louis Cardinals in Game 4, 3-0.
2009: Michael Jackson's last work, the documentary "Michael Jackson: This Is It," opens.
2013: Lou Reed, 71, who radically challenged rock's founding promise of good times and public celebration as a leader of the Velvet Underground, was a solo artist and was a founder of indie rock, dies in Southampton, N.Y.
2018: Hundreds of Mexican federal officers carrying plastic shields block a Central American caravan from advancing toward the United States after several thousand migrants turn down the chance to apply for refugee status in Mexico and obtain a Mexican offer of benefits.