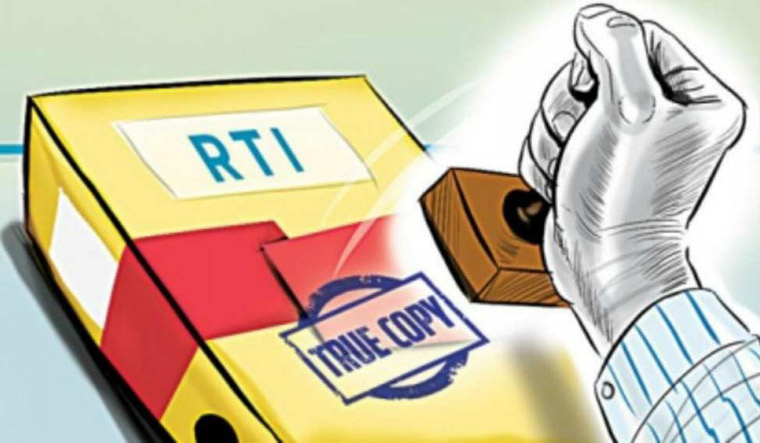 The widespread view that the 'overworked bureaucracy' ends up spending 75 per cent of their time in responding to applications sent under the Right to Information Act, is nothing more than an 'urban myth', reveals an analysis of data from 2012-13 to 2018-19.
The total number of RTI queries reported by public authorities under the Union government has risen by 83.83 per cent, from 8,86,681 in 2012-13 to 16,30,048 in 2018-19. However, the number of Central Public Information Officers (CPIOs) designated to handle these applications has gone up by 13.41 per cent—from 21,204 in 2012-13 to 24,048 in 2018-19—found a study conducted by the Commonwealth Human Rights Initiative.
The data showed that, on an average, a CPIO handled less than 42 RTIs in 2012-13. In 2018-19, this increased to almost 68 RTIs in a year. The monthly average number of queries per CPIO rose from less than four to less than six RTIs between 2012-13 and 2018-19.
Handling between four and six RTI applications per month, as the study says, raises questions on whether the officials are indeed spending 75 per cent of their time on the queries. The CHRI report was released on the occasion of the RTI Act completing 15 years.
However, the number of CPIOs is not matching up to the rising volume of RTI applications. Fresh receipts, which is the total number of applications minus the annually reported backlog, grew from 8.11 lakh in 2012-13 to 13.7 lakh in 2018-19.
This is a growth of a little more than 40 per cent. While the annual backlog in 2012-13 was more than 75,000, it stood at a little more than 2,59,000 at the beginning of 2018-19. So, while the number of fresh receipts has indeed gone up, the backlog does not appear to reduce in any year because the number of CPIOs is not going up proportionately.
The annual average of fresh RTIs received per CPIO has increased from a little more than 38 in 2012-13 to almost 57 in 2018-19. Consequently, the monthly average number of RTIs disposed during the same period has gone up from a little more than three per CPIO to less than five RTIs. In 15 years, the averages show that workload has not even doubled per CPIO.
The Ministry of Finance tops the list amongst the various ministries and institutions in terms of applications—backlog plus fresh receipts—with 2.22 lakh RTIs in 2018-19. With 7,100 CPIOs handling this workload, the annual average works out to a little more than 31 RTIs per CPIO and a monthly average of just over two RTIs.
"Can handling an average of two RTIs per month be reasonably labelled as an enormous workload on a CPIO? Clearly, the averages are so low because of the large number of designated CPIOs in this Ministry and its public authorities," said Venkatesh Nayak, programme head, Access to Information Programme at the CHRI.
The Ministry of Communications and Information Technology reported the second highest number of RTI applications in 2018-19 at 1.52 lakh. With 2,074 CPIOs, the annual average works out to a little more than 73 RTIs per CPIO. The monthly average is a little above six RTIs per CPIO.
At third place, the Ministry of Human Resource Development logged a total of 1.38 lakh RTIs in 2018-19 handled by 1,469 CPIOs. This amounts to an annual average of almost 94 RTIs and a monthly average of less than eight RTIs per CPIO.
However, there are several public authorities that have designated only one CPIO on whom falls the entire year's burden, with the Prime Minister's Office topping the list in this regard. The lone CPIO in the PMO handled 13,816 RTIs in 2018-19 (backlog and fresh receipts), taking the monthly average to 1,151 RTIs.
The lone CPIO in the President's Secretariat handled a monthly average of less than 285 RTIs in 2018-19. The Supreme Court, too, had only one CPIO handling a total of 3,775 RTIs in the same duration, which was a monthly average of almost 315 RTIs.