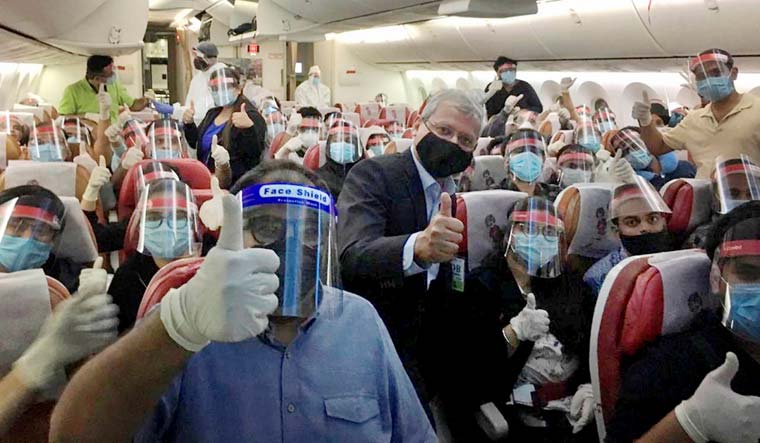 The Union government has announced the second phase of the Vande Bharat Mission.
The second leg of the mission to bring back Indian nationals from across the globe, who have been stranded following lockdowns imposed due to COVID-19, will be from May 16 to 22.
Indians stranded in 31 countries will be brought back in 149 flights, including several feeder flights, in the second phase.
The flight schedule is more elaborate when compared to the first phase. Air India will operate 64 flights to 12 countries, including the UK, the USA, Gulf region, Bangladesh, and Southeast Asia, to bring back around 14,800 passengers.
The Indian Navy's evacuation mission 'Operation Samudra Setu', which brought back 900 Indians from Male on INS Magar and INS Jalashwa, will conduct two more rescue sorties to Male, this time returning to Tuticorin instead of Kochi.
India will operate 13 flights from the US, 11 from the UAE, 10 from Canada, nine each from Saudi Arabia and the UK, eight each from Malaysia and Oman, seven from Australia, six each from Ukraine, Qatar, Indonesia, five from the Philippines, four each from France, Singapore, Ireland and Kyrgyzstan, two each from Georgia, Germany, Tajikistan, Bahrain, Armenia and one each from Thailand, Italy, Nepal, Belarus, Nigeria and Bangladesh, during the second phase of the mission.
Almost 20 per cent of these flights are headed for Kerala (31), mainly from the Gulf region. Delhi comes as the next big destination with 14 per cent of the flights (22) heading for the national capital. Karnataka will receive 17 flights, followed by Telangana (16), Gujarat (14), Rajasthan (12), Andhra Pradesh (nine), Punjab (seven), Bihar (six), Uttar Pradesh (six), Odisha (three), and Chandigarh (two). One each flight is headed for Jammu and Kashmir from Bangladesh, Jaipur from Kazakhstan, Mumbai from Japan, and Madhya Pradesh from the UK.
The authorities have spruced up several small airports, such as Bodh Gaya, Trichy and Tirupati, to receive the repatriation flights. This was done to ensure that people land as close as possible to their destinations, given the restrictions on internal travel and the compulsory 14-day institutional quarantine.
It is still not clear whether these flights will fly out empty from India. Civil Aviation Minister Hardeep Singh Puri had earlier said one of the reasons for the high cost of flight tickets was that it was making no money on the outward leg. Other reasons cited for the increased fare were the fact that passengers had to maintain social distancing and that crew and passengers have to be provided personal protective equipment.
There are thousands of foreign nationals, long term foreign visa holders and green card holders, who are stuck in India and are keen to fly out. Government sources had said that their cases could be considered, provided the host nations were willing to receive them. An entire lot of flights under phase one of the mission flew out empty.
Students comprised the largest number of people in the repatriation flights in Phase 1, followed by those who had lost jobs.