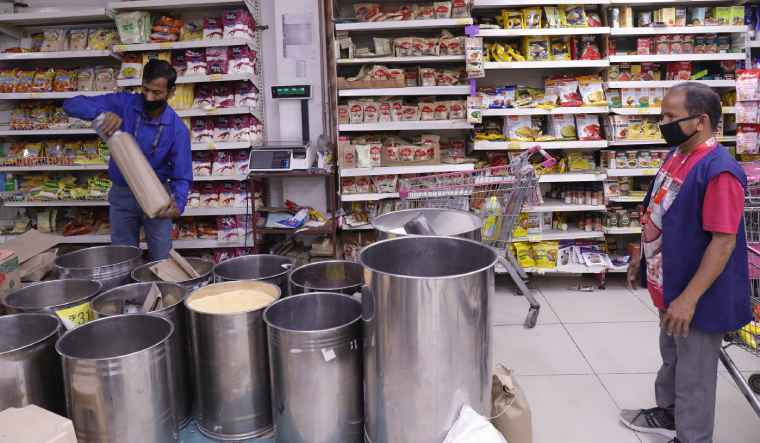 As the nationwide lockdown enters its third week, retailers of essential items are facing the mounting challenge of home deliveries.
While the government has ensured that supply of food items and medicines remains unruffled, retailers say that home deliveries are not their expertise.
"We are running with highly reduced staff. Those who come to work are not used to deliveries. We do not even have two wheelers. I have borrowed some vehicles from friends and neighbours," says the manager of a provision store in Lucknow. The vehicles have been pasted with stickers to indicate that they are on COVID-19 duty.
Stand-alone stores and large retail chains are besieged with the problem of managing home deliveries.
With the government mandating that no salaries must be deducted during the lockdown, many workers have stopped showing up at work. Some are fearful of the virus, others have families which have barred them for stepping out, while still others have left for their native villages.
"The district administration has been very helpful. Our staff is neither being stopped nor harassed. But with reduced numbers of workers, the pressure on us has gone up," says Gagan Arora who manages his family's 60-year provision store that is hugely popular in Lucknow.
Forced to remain indoors, patience levels of people are also running low. "Customers want a particular brand of a product. If I say we don't have it, they get angry. Some threaten us that they will report us to the authorities. But we understand this is a difficult time and are being patient," says a retailer. Those who thronged this retailer's store from a 20 km radius before the lockdown for the variety it offered, are now angry that products of choice are not available or not available in the desired quantity.
"Some want vanilla essence, orange flavoring and baking powder. These are not products which we have huge stocks of. But people are spending a large part of their days in kitchens," reasons another vendor.
Panic buying and hoarding is compounding the woes of retailers, despite the government's repeated assurances that the supply of essentials will remain uninterrupted.
Stand-alone store owners, who did the occasional home deliveries, say that they have to put in more hours at work to fulfil orders. "Though the store opens at 8 am, I am here at 6 am to take stock and clean the store. People order on WhatsApp and make demands to fulfil orders in impossibly short times," one says.
Another says that he had a customer order provisions weighing almost 25 kg. "When my staff went for delivery on a bicycle, the customer picked up just one packet of chips from the entire order and rebuked my staff for being late."
In the big retail chains, though operational hours have become longer, staff is being made to work in rotation in eight hour shifts. Smaller stores do not have that option.
"I had a staff of six. Now there are only two. They are rightfully expecting me to pay them additional money at the end of the month," says Ajay Mishra, a store owner.
Another adds that a strict government watch on over-pricing has led to bigger vendors misleading the administration. "Say there is a cap of Rs 60 per kilogram for a particular dal. This will, however, be the price for the lowest quality of the daal. With fewer supply vehicles, and overcharging for transport, we are in a no profit, no loss stage."
Most store owners are not allowing customers to crowd store fronts. Instead, customers are asked to wait in their vehicles while orders are packed. But on days when unverified news sets off panic, such caution is done away with.
Four days ago, the government permitted home delivery experts such as Swiggy and Zomato to pitch in. "They have the expertise. We have the goods. It is a win-win situation", one retailer in Lucknow's Ashiyana area told The Week. It also helps that these delivery platforms take payments when the order is placed, thus no order can be turned back at whim.
All retailers are of the opinion that while stocks are available at present, the government must consider permitting restarting production of essential items.
"Unless that happens, and happens quickly, we are looking at a big problem," as one vendor said.