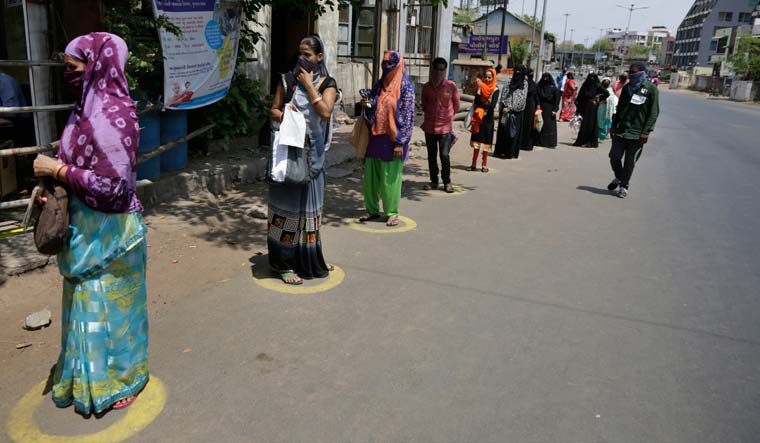 The Gujarat government on Sunday afternoon came out with a set of guidelines for lockdown 3.0 ensuring that except for shops selling essential commodities, no other establishment will be open in four major cities of the state.
While several relaxations have been given in the green and orange ones, as far as Ahmedabad, Vadodara, Surat, Rajkot, Gandhinagar and Bhavnagar go, the state government has been very strict.
Till Saturday evening, the total number of COVID-19 cases in Gujarat had touched 5,054 with 262 deaths.
Gujarat is only second to Maharashtra in terms of the number of cases and deaths.
Ashwani Kumar, secretary to Gujarat Chief Minister Vijay Rupani, said in Gandhinagar that in these six cities, no other shops, except those selling essential commodities, milk, fruits and vegetables and medicines, will remain open.
In a bid to implement the lockdown in a better manner, Ahmedabad has been closed, except for two bridges linking the eastern part with the western part.
Six municipalities areas will also be under complete lockdown.
In Junagadh and Jamnagar municipal corporation areas and 156 municipalities, industries will be allowed with a condition for maintaining social distancing.
Ashwani said that shops selling pan masala, cigarette and tea shops won't be open anywhere in the state.
However, there are relaxations in the orange and green zones, where hair cutting salons, beauty parlours and tea shops will remain open.
In green zones, buses will ply with maximum 30 passengers. This will also include inter-district bus service within green zones.
Ashwani appealed to the Muslim brethren to celebrate Ramzan by remaining indoors.
In the morning, Ahmedabad Municipal Commissioner Vijay Nehra also appealed to the masses to adhere to the lockdown. Along with Surat and Vadodara, Ahmedabad has contributed more than 89 per cent of the cases in the state.