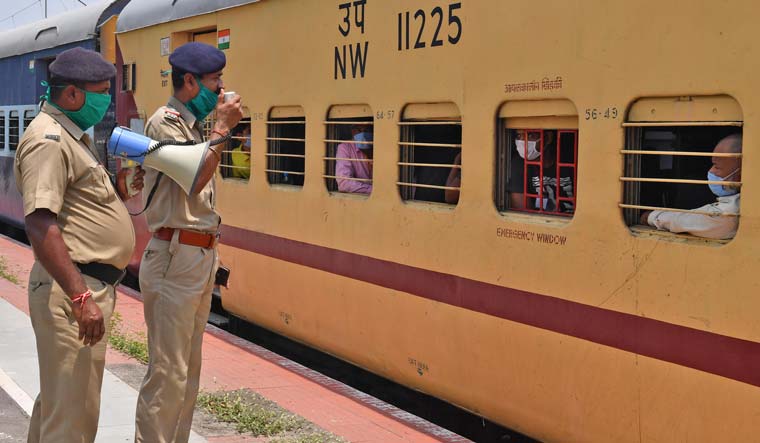 With the first train departing from New Delhi for Bilaspur, Indian Railways restarted its passenger train service after a gap of nearly 50 days. The railways restored its operations on passenger trains with three trains for Bengaluru, Dibrugarh and Bilaspur ready to depart from New Delhi on Tuesday, with a total of eight trains departing from various cities.
According to Indian Railways, 1,177 passengers are travelling in the New Delhi-Bilaspur special train, 1,122 in New Delhi-Dibrugarh special train and 1,162 travelling in New Delhi-Bengaluru special train.
"With the departure of these trains, restoration of passenger train services on Indian Railways will start in a graded manner," said a senior railway officials. Special trains will runs from New Delhi station connecting Dibrugarh, Agartala, Howrah, Patna, Bilaspur, Ranchi, Bhubaneswar, Secunderabad, Bengaluru, Chennai, Thiruvananthapuram, Madgaon, Mumbai Central, Ahmedabad and Jammu Tawi.
"These special train services shall be in addition to the Shramik Specials run by Indian Railways," railway official maintained.
Indian Railways has clarified that it is mandatory for passengers to download Aarogya Setu App in their mobile phones, before commencing their journey.
Only those passengers with confirmed e-tickets will be allowed to enter the railway station as per certain rules framed by the Railways. All passengers will be compulsorily screened and only asymptomatic passengers are allowed to board the train.
In the absence of public transport, the movement of the passenger as well as the driver of the vehicle transporting the passengers to and from the railway station will be allowed on the basis of the confirmed e-ticket.
While boarding and travelling, all passengers will have to observe social distancing and it is mandatory for everyone to wear face cover or masks.
As all ticket counters at railway stations are shut, train ticket booking can be done only through IRCTC portal, railway authorities said.