NSG membership cannot be a farewell gift: China to US
Express News Global
India says it is engaged with all partners and hopes to see an early decision.
Written by Shubhajit Roy | New Delhi | Published:January 17, 2017 12:57 am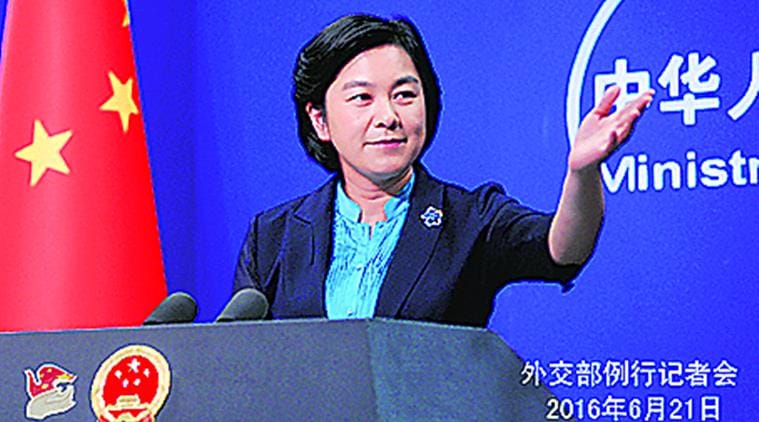 Hua Chunying.Hours after China said on Monday that admission of non-NPT signatories in NSG cannot be a "farewell gift" for countries to give to each other, India said that it is engaged with all partners and hopes to see an early decision on its application.
Refusing to get drawn into Beijing's ongoing turf war with Washington, sources in New Delhi told The Indian Express, "We remain engaged with all partners and hope to see an early decision on our application."
Beijing's comments came on Monday, a day after the outgoing Obama administration said that China was an "outlier" in the efforts to make India a member of the elite nuclear club. Commenting on India's failed NSG bid, the US Assistant Secretary of State for South and Central Asia, Nisha Desai Biswal had said on Sunday, "Clearly there is one outlier that needs to be addressed and that is China."
Chinese Foreign Ministry Spokesperson Hua Chunying told a media briefing on Monday, "Regarding India's application to the NSG, regarding non-NPT countries admission to the NSG, we have made our position clear before so I will not repeat it. I just want to point out that NSG membership shall not be some kind of (a) farewell gift for countries to give to each other."
While Hua's remarks were aimed at the outgoing Obama administration, the statements come at a time when US President-elect Donald Trump and his incoming cabinet nominee's recent statements and actions have caused certain amount of disquiet between US and China.
They include Trump's phone conversation with Taiwan leader and US Secretary of State nominee Rex Tillerson's comments on South China Sea.
China has been blocking India's membership bid for the 48-member grouping despite backing from majority members on the grounds that India is not a signatory to the nuclear NPT. China is advocating a two-step approach for admission of countries who have not signed the NPT. Beijing wants to find a solution that is applicable to the admission of all non-NPT countries followed by discussions on admitting specific nations.
Besides India, Pakistan applied for becoming a member of the NSG, which many claim was at the behest of China to stall India's entry into the elite club.
On the issue of China's technical hold on India's application to get Jaish-e-Mohammad chief Masood Azhar banned by the UN, Hua said: "As we have explained our position before, on this question, the 1267 Committee needs to base its decision on solid evidence, follow relevant resolutions and rules of procedure and make a decision based on consensus. The technical hold China proposed is to allow more time for consultation and deliberation."
Asked whether China will re-think this issue this year if India files a fresh application as the previous one lapsed due to two technical holds by Beijing, Hua said, "We need more time for deliberations so as to reach a consensus and the committee will follow relevant resolutions and rules of procedure. We will remain in touch with relevant parties on this," she said.