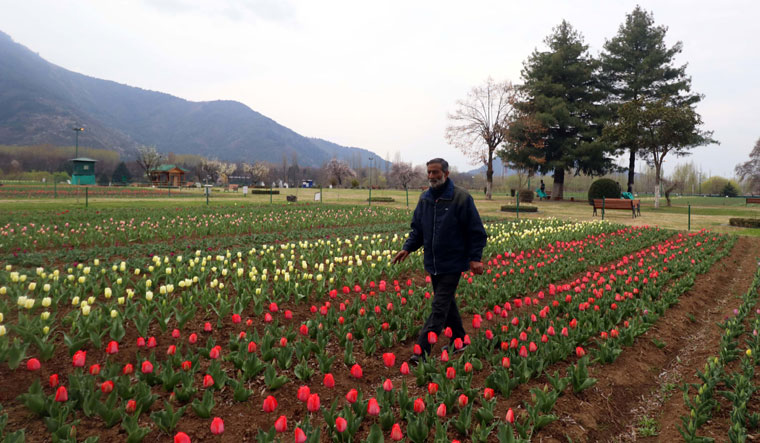 Indira Gandhi Memorial Tulip Garden, Asia's largest tulip garden in Srinagar, is in full bloom, but there are no visitors due to the coronavirus pandemic.
Spread over 80 acres on the banks of Dal lake in the foothills of Zabarwan mountain range, the garden boasts of 1.3 million tulips of different varieties this year.
The opening of the garden in late March heralds the arrival of tourists, many of whom start their Jammu and Kashmir trip with a visit to the garden.
This is the first time in a decade that no one is present to appreciate the breath-taking view of the garden managed by the Jammu & Kashmir Floriculture Department.
The garden which is meticulously prepared for months presents a captivating view of different varieties of hyacinths, daffodils, roses, ranunculi, muscaria, iris and other spring blooming flowers.
The brainchild of former J&K chief minister and Congress leader Ghulam Nabi Azad, the garden was first opened in 2007 and quickly emerged as Asia's largest tulip garden.
It was ranked as the fourth biggest tulip garden in 2017 at the World Tulip Summit in Canada. It was also touted as one of the top five tulip destinations at the Summit. According to sources, around five lakh people including locals, tourists—domestic and international—would visit the garden in the spring season.
Behind the month-long spectacle, scores of gardeners and the J&K Floriculture Department staff toil for months to prepare the garden for the next season.
That includes harvesting the bulbs, preserving them in cold storage, preparing the flower beds, removal of weeds and mixing of manure. For the gardeners, appreciation by the visitors is enough to recharge them to prepare the garden for the next season.
Sadly, this year the flowers will wilt as the heat rises, and there will be no visitors due to coronavirus pandemic. The closure of the garden has worsened an already bad situation for people in the tourism sector.
For hundreds of locals, the garden was a means of catharsis, too. But this year, fear of contracting COVID-19 infection has forced people to stay indoors.
Former chief minister Omar Abdullah, who was released after nearly eight months of detention from Hari Niwas following the abrogation of Article 370, while sharing pictures of the garden, wrote on social media: "We can't visit this year so here's a glimpse of what we are missing. Let's hope next year is a bumper bloom & a bumper season of visitors."