Nikki Haley believes her upbringing, resolve will help her at UN job
Express News Global
Haley said she is doing a lot of reading and speaking to many people as part of her work in "getting to know the agency, getting to know the players, members of the Security Council, all those things."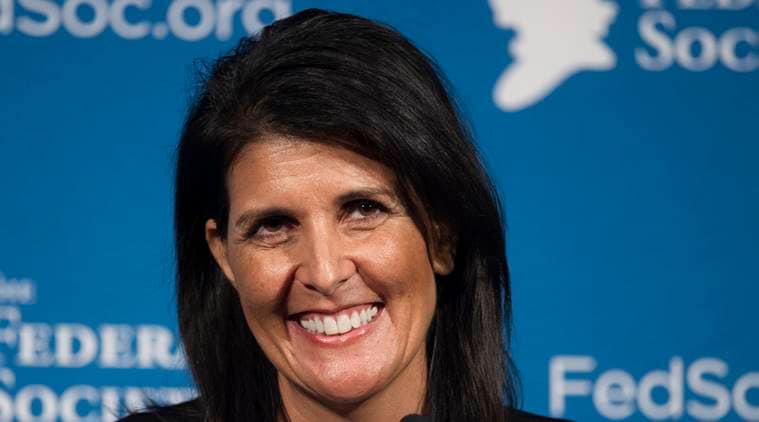 Nikki Haley. (File Photo)Indian-American Nikki Haley feels that empathy cultivated during her upbringing and the resolve forged as South Carolina governor will help overcome her lack of foreign-policy skills and fulfil her responsibilities as the US envoy to the UN. "All I know is that everything I've done leading up to this point has always been about diplomacy," Haley, who turns 45 on January 20 — the day of Donald Trump's inaugural — said ahead of her Senate confirmation hearing scheduled for January 18.
"It has been about trying to lift up everyone (and) get them to work together for the greater good." The daughter of Indian immigrants, Haley acknowledges she faces a learning curve, The Courier and Mail reported. Haley said she is doing a lot of reading and speaking to many people as part of her work in "getting to know the agency, getting to know the players, members of the Security Council, all those things."
"I don't know what it takes to be a UN ambassador," Haley said. "I know that I will do everything I need to to make sure that I make people of this country proud". She declined to discuss her opinions on issues confronting the United Nations. Haley is not expected to face fierce opposition on Capitol Hill where she visited senators last week. She has said she will resign as governor after the full Senate approves her nomination, which could be in as little as two weeks. She said her family would join her in New York.
Haley said her six years as governor has provided her with the know-how and determination needed to navigate the 193-member United Nations. "Dealing with the Legislature prepares you in terms of having to be diplomatic, but also through the challenges and tragedies that we've had across South Carolina," she said, referring to the past 18 months that included the Emanuel AME Church massacre in Charleston and two devastating storms.
The compassion and respect she said she was taught while being raised in Bamberg will help as well. "I think that making sure people understand what it's like to be in someone else's shoes will always be one of the most important things that we can ever do," Haley said.
"Because once you understand how someone thinks and feels, then you can understand how to make the problems go away, how to (find) solutions and how to get to a resolution on an issue." Born Nimrata "Nikki" Randhawa, Haley is the first minority and female governor of South Carolina, a deeply conservative state with a long history of racial strife.