New York Governor Andrew Cuomo said he expects more cases after the state identified its first coronavirus patient, while Iran and South Korea reported another surge in infections. The OECD warned that global economic growth will sink to levels not seen in more than a decade.
The European Union set up a special team to deal with the outbreak as cases rose from Italy to Spain. Earlier, central banks pledged to respond to the rout in markets. Goldman Sachs predicted the Federal Reserve will cut rates by half a point and money markets are anticipating a 25 basis-point reduction from the Bank of England this month.
U.S. stocks headed for their first gain in eight sessions as investors assessed prospects for central-bank intervention to mitigate the economic impact.
Key Developments
Global cases reach 89,000; death toll rises to 3,044
Iran cases surge 50%, top 1,500; 4,335 infected in S. Korea
New York City, Brussels, Berlin report first cases
Coronavirus drives China factories to record slump
JPMorgan warns equities will remain under pressure
Russia Reports First Case in Moscow (10:05 a.m. NY)
Russia reported its first case of the virus in Moscow. The patient is a Moscow resident who had traveled to Italy, according to the government's special anti-virus headquarters. Two other cases were reported last month in Chinese nationals in Siberia, while another three Russians with coronavirus were brought back to the city of Kazan from the Diamond Princess cruise ship in Japan.
S&P 500 Gains After Worst Week Since 2008 (10 a.m. NY)
The S&P 500 advanced Monday after suffering the worst week for the benchmark since 2008. Technology shares led gains as central banks from Japan to England joined the Federal Reserve in promising action as warranted.
U.K. Coronavirus Cases Rise to 40 (9:15 a.m. NY)
Britain reported four more cases, bringing the total in the country to 40. All four patients had recently traveled from Italy and are from Hertfordshire, Devon and Kent in England.
Earlier, Prime Minister Boris Johnson said the coronavirus is a problem "likely to become more significant for the country" in the next days and weeks. He spoke after chairing an emergency meeting of top officials Monday. An action plan to fight the virus will be published on Tuesday.
Johnson spokesman James Slack warned that members of the public face changes to their daily lives, though he urged people not to stockpile food. The government stands ready to use "all levers" at its disposal to make sure Britain is prepared, Slack said.
WTO Sees 'Substantial' Impact on World Economy (9:10 a.m. NY)
The impact of COVID-19 on the global economy will "likely be substantial," World Trade Organization Director-General Roberto Azevedo told a meeting of trade delegates in Geneva Monday.
The effects will start to show up in the trade data in the coming weeks, he said. The WTO's June ministerial meeting in Kazakhstan is "proceeding as planned. Should the situation so demand we will take any necessary action."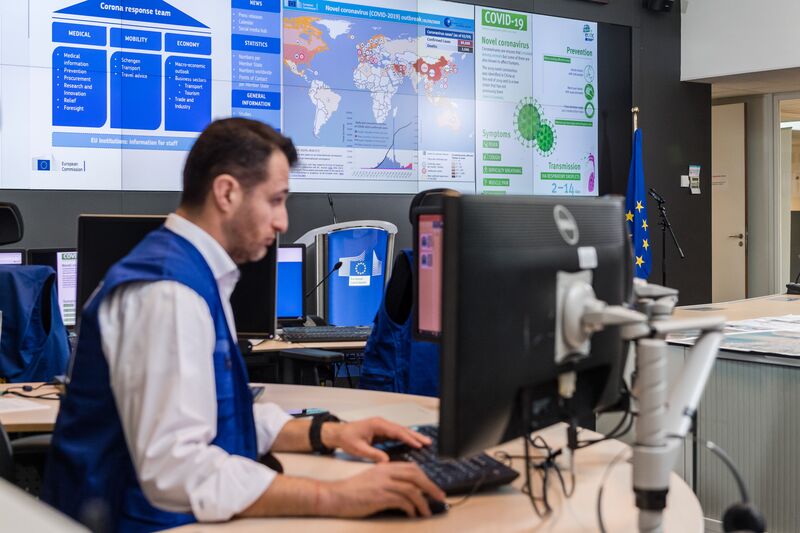 BMW Worker in Munich Tests Positive (8:50 a.m. NY)
An employee at BMW AG has tested positive for coronavirus, prompting the company to quarantine about 150 workers at its research and development center in Munich, according to a spokesperson.
The employee hadn't traveled and is under medical supervision, the spokesperson said. Work at the center continues uninterrupted, though the 150 employees who had been in contact with the infected person will stay at home for two weeks.
Guindos Says ECB Ready to Act If Needed (7:41 a.m. NY)
"The coronavirus added a new layer of uncertainty to global and euro-area growth prospects," ECB Vice President Luis de Guindos said in London. The outbreak has the potential to affect the euro area economy through both demand and supply, he said. "We remain vigilant and will closely monitor all incoming data."
Cuomo "Fully" Expects Community Spread (7:30 a.m. NY)
Cuomo told CNN he "fully" expects community spread after the state identified its first coronavirus patient. He said New York now being able to do its own testing, rather than go through CDC, is a significant improvement.
Pence earlier told Fox Business Network that the government now expects "many more cases" in the U.S.
Cases Rise in Spain (7:15 a.m. NY)
The number of cases in the Madrid region jumped to 32, up from 10 given on Sunday morning, said Fernando Simon, the head of the country's health emergency center. The total across the country rose to as many as 120.
While most infections have been linked to Italy and the overall situation is contained, the government will look at further steps in specific cases. One place under scrutiny is Torrejon de Ardoz, a town near Madrid that has seen outbreaks of cases including one among members of an evangelical religious group, Simon said.
China's Xi Urges Faster Development of Vaccine (6:59 a.m NY)
Chinese president Xi Jinping called for accelerating research and the development of medicines targeting the new coronavirus and combining medical measures in both China and the western countries, China Central Television reported.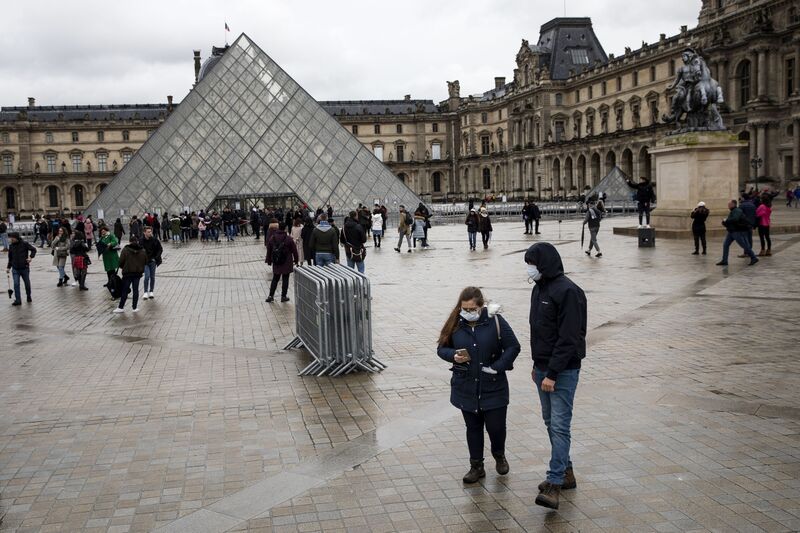 Paris's Louvre Museum Remains Shut (6:37 a.m. NY)
The Louvre museum in central Paris remained closed on Monday as staff declined to turn up because of worries over the coronavirus outbreak. Employees at the world's most-visited museum stopped work on Sunday under rules designed to protect against serious health risks.
Downside Risks Materializing, Gentiloni Warns (6:27 a.m. NY)
The EU's executive arm has set up a special team to help coordinate governments' response. The risk of widespread sustained transmission of the coronavirus in the EU and the U.K in the coming weeks is moderate to high, witjj more countries expected to report more cases and clusters, the European Centre for Disease Control and Prevention said in a risk assessment report on Monday.
Meanwhile, EU Economy Chief Paolo Gentiloni offered a bleak outlook for the economy. Downside risks to the economy are materializing, he said, adding that the idea of a v-shaped recovery that was presented 15 days ago "could prove optimistic."
Putin's Plan to Revive Russian Growth Dented (6:03 a.m. NY)
The coronavirus outbreak may be about to upend Russian President Vladimir Putin's carefully constructed plan to revive growth. Oil prices plummeted the most in more than a decade last week and the ruble dropped. Finance Minister Anton Siluanov said that the country is bleeding about 1 billion rubles ($15.3 million) a day in losses from its trade with China.
Austria Says Vienna Meeting Is OPEC Decision (6:58 p.m. HK)
It is OPEC's decision whether or not to proceed with a meeting in Vienna this week, Austria said. while recommending the group consider recommendations from the World Health Organization as the coronavirus forces the cancellation of events around the world.
While Austria itself has reported only a handful of cases of the disease in people returning from foreign countries, one of OPEC's most important members, Iran, is experiencing a severe outbreak that has infected government officials and prompted curbs on international travel.
BlackRock Postpones Events, Goldman Halts Travel (6:32 p.m. HK)
BlackRock canceled its Iberia Investment Day 2020 event in Madrid on March 3 due to concerns about the coronavirus and postponed an investment conference to be held in Warsaw next week.
Separately, Goldman Sachs Group told staff that all non-essential business travel should be postponed "effective immediately," Reuters reported. Earlier, Vodafone asked its staff not to travel for business until March 31.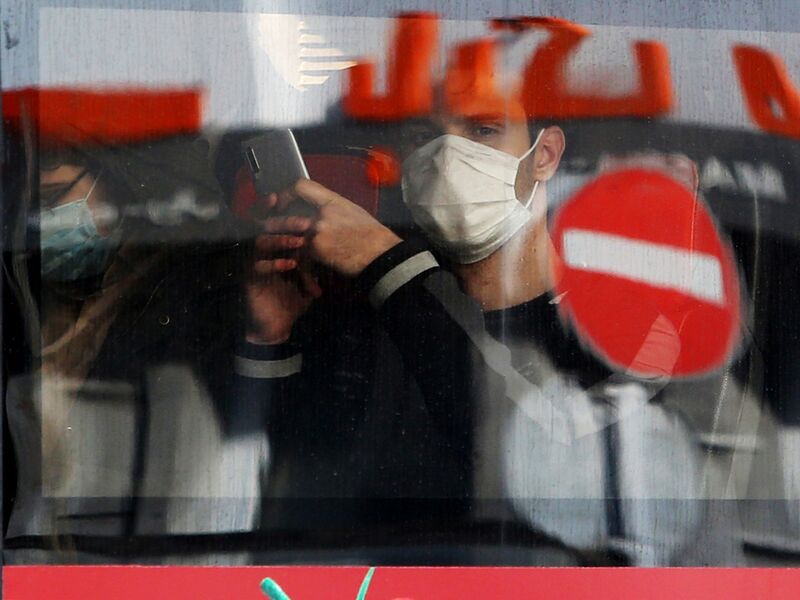 Cases Surge in Iran (6:21 p.m. HK)
Iran, the hub of the outbreak in the Middle East, said the number of confirmed cases surged by 523 to 1,501. So far 66 people have died from the infection, the health ministry said. It said 7,280 suspected cases were sent to hospitals and 4,312 were tested.
Earlier, the semi-official Tasnim news agency reported that a member of the council that advises Iran's supreme leader had died from the coronavirus. Mohammad Mir-Mohammadi was a member of the Expediency Council, which meets infrequently and typically advises Ayatollah Ali Khamenei to resolve disputes between government bodies.
Lombardy Regional Government to be Tested (6:14 p.m. HK)
All members of the Lombardy regional government are undergoing tests after one member tested positive, Health Secretary Giulio Gallera said in a Facebook video. Governor Attilio Fontana had said last Wednesday that one of his staff tested positive for the virus, and that although he remained healthy, he was putting himself in isolation.
Virus Pushes Global Economy Toward Contraction (6 p.m. HK)
Global economic growth will sink to levels not seen in more than a decade, challenging central banks and governments to respond to a fast-changing situation, the Organisation for Economic Cooperation and Development said.
As central banks around the world try to calm a market panic, the Paris-based group also warned of a possible global contraction this quarter. It cut its full-year growth to 2.4% from 2.9%, which would be the weakest since 2009.
Portugal Records First Confirmed Case, RTP Says (6 p.m. HK)
Portugal confirmed its first coronavirus case on Monday. The 60 year-old male patient, who is in "good" health at a hospital in the northern city of Oporto, had been on vacation in northern Italy and started having symptoms on Feb. 29, Health Minister Marta Temido said at a press conference in Lisbon.
Cases Rise in Germany, Belgium (5:22 p.m. HK)
The number of cases in Germany has risen to 150, from 129, according to the latest figures from the Robert Koch Institute. More than half, or 86, are in the western state of North Rhine-Westphalia, while the capital Berlin reported its first case.
Separately, Brussels reported its first infection — a person who had traveled from a coronavirus risk area and will stay in quarantine — the Belga news agency said, citing official sources. Belgium now has eight confirmed cases and federal government ministers will meet on Monday.
Earlier on Monday, Austria sent back a bus with 45 students coming from the German city of Aachen because one of the students had been in contact with an infected person. Deutsche Telekom canceled a cyber security conference scheduled for March 11 in Bonn and DMG Mori closed its location in Pfronten, Germany after one of its workers was infected.
India Reports Two More Cases (5:15 p.m. HK)
Two people have been diagnosed with the new coronavirus in India — one in the country's capital New Delhi and another in the southern state of Telangana, the Press Information Bureau of India reported Monday. Stocks fell and the rupee declined to a 15-month low.
Credit Suisse May Split Teams (5:10 p.m. HK)
Credit Suisse Group AG is considering splitting teams in Switzerland into different offices to ensure business can continue, which would be an extension of what has already been rolled out in Asia, according to a person familiar with the matter. The bank is also weighing whether to ask employees in the country to work remotely.
Italy's Misiani Sees Deficit-GDP at 2.4% (4:37 p.m. HK)
Italian Deputy Finance Minister Antonio Misiani sees the 2020 budget deficit-GDP ratio reaching 2.4% on measures to boost the economy. The government had expected the ratio at 2.2% and new measures would add 0.2 percentage points, Misiani told the Italian daily Il Messaggero.
Italy's government is seeking to widen the nation's budget deficit to pay for at least $4 billion in proposed emergency economic measures as it grapples with Europe's worst coronavirus outbreak.
Central Banks Step In; G7 Finance Ministers to Meet (4:29 p.m. HK)
Separately, French Finance Minister Bruno Le Maire said Group of Seven finance ministers need to ensure that their responses are "as coordinated as possible" in order to be effective. They will hold a teleconference this week and there will be "concerted action," Le Maire said, adding he spoke to U.S. Treasury Secretary Steven Mnuchin on Sunday.
South Korea Adds More Cases (4:22 p.m. HK)
The country reported 123 more cases, taking its tally to 4,335. Earlier on Monday, Jung Eun-kyeong, the director of the Korea Centers for Disease Control and Prevention, said the nation's coronavirus fatality rate stood at 0.5% — with the figure spiking to 3.7% for people aged 80 and older.
— With assistance by Karen Leigh, Steve Geimann, Adveith Nair, Zaid Sabah, Dominic Lau, Max Zimmerman, Derek Wallbank, Jihye Lee, Iain Rogers, Joost Akkermans, Sybilla Gross, Boris Groendahl, William Horobin, Aoife White, Tommaso Ebhardt, and Patrick Winters