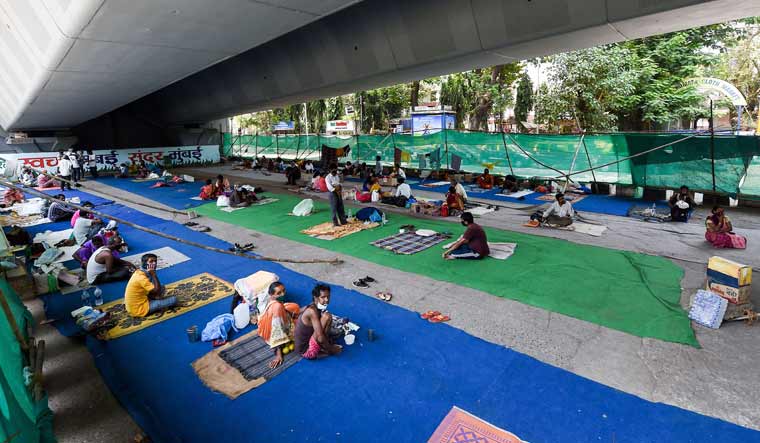 Around 60 people, including cancer patients and their bystanders, were shifted to a hotel in Mumbai today to avoid overcrowding the premises of Tata Memorial Hospital, the cancer facility in the city's Parel area. "These patients are from Tata Memorial Hospital and have been shifted to Zaid International Hotel at Marol in Andheri," said Syed Humayun Jafri, senior public relations officer, Tata Memorial Hospital. "They are 33 patients and, along with relatives, they are around 60-odd people. They have reached the hotel and are checking in.
"We have arranged for their food and stay with help of NGOs."
These patients and their relatives are done with their immediate course of treatment at TMH and are waiting to go back to their homes, in different parts of the country. But, because of the nationwide lockdown, they are unable to do so. The families have been living under the flyover for the past 5-6 days.
"We are now looking at Sarvodaya Hospital, Shraddha Foundation in Kharghar and City Lodge in Dadar to help us in providing accommodation and food to our patients and their relatives. Those patients, who might need to still visit TMH in the coming days, will be put up in a nearby hotel such as the City Lodge while those who are done with their treatment are being put up at the hotel in Andheri," Jafri said.
Earlier in the day, a TV channel had reported that around 60 outpatients and their relatives at Mumbai's KEM hospital have been moved to a makeshift facility set up by the BMC under the Hindmata flyover in Mumbai's prime locality of Dadar.
But Dr Hemant Deshmukh, Dean, KEM hospital denied that that any patient has been shifted outside the hospital premises. "We have not shifted any patient. All KEM patients remain within KEM. Those who cannot go outside Mumbai are still admitted inside KEM. These are people who are on the waiting list at Tata Memorial Hospital. The footpath outside TMH which was packed before COVID-19 happened, is now all vacant. So, the police and the local authorities have shifted all cancer patients who were waiting outside TMH to under the Hindmata flyover so as to keep them away from the main COVID-19 hospital as they are immuno-compromised and can get infected fast if not kept away from coronavirus positive patients."
A middle-aged man who came to the city from Nasik has been living under the flyover for the past six days, while another patient whose wife is nine months pregnant, came from Varanasi to get himself checked. When speaking to a TV news channel he said that the Bhoiwada police asked them to move to the makeshift shelter. "We have enough to eat and this system is good for us because we have roof over our heads. Earlier, we would simply loiter around on the footpaths," he said.