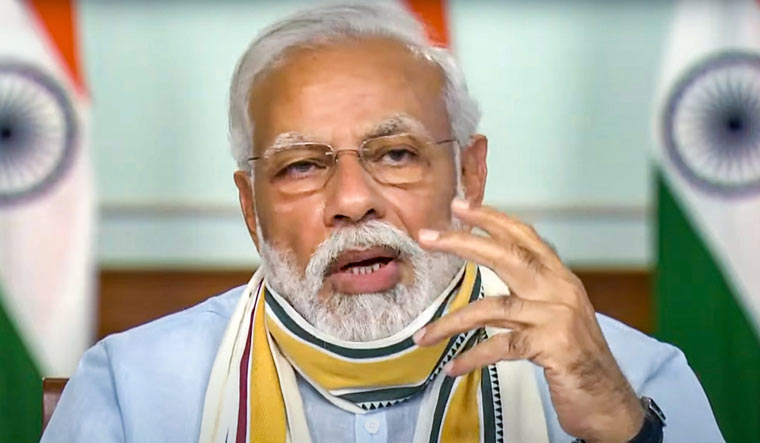 Prime Minister Narendra Modi, in his address to the nation today, announced a Rs 20 lakh crore package, which includes previously announced packages, to tackle the COVID-19 pandemic.
Calling the economic package a key component of a "self-reliant India", PM Modi pointed out that it will come to around 10 per cent of the GDP. Apart from the Reserve Bank of India (RBI) assistance, the government had last month announced a Rs 1.74 lakh crore to provide benefits to the poor, including cash transfers, Rs 50 lakh insurance cover and steps to ensure food security.
The special economic package will have emphasis on land, labour, liquidity and laws, and will be for "our labourers, farmers, honest tax payers, MSMEs and cottage industry, Modi said and added that Finance Minister Nirmala Sitharaman will provide the details of the package over the coming days.
In a televised address to the nation, PM Modi also said that 'Lockdown 4' will be different and will have new laws. He said the new strategy will be based on the points raised by the states. He said the details of the next lockdown will be provided before May 18. The PM had asked the chief ministers to share by May 15 a broad strategy on how they want to deal with lockdown regime in their states.
Modi began his address by offering his condolences to those who have lost their lives to the COVID-19 pandemic.
He went on to lay a roadmap for India's fight against the COVID-19 pandemic, lauding the nation for "turning a crisis into an opportunity". "The 21st century belongs to India. India's medicines have given hope to the world. Now, the world looks up to India now and it believes India is capable of doing a lot for the welfare of humanity," PM Modi said.
He pointed out that India, which did not have PPE and N95 masks when the pandemic broke out, manufactures 2 lakh PPE and 2 lakh N95 masks every day now.
"We are at an important juncture as a nation. We had never seen or heard about such a crisis ever before. This is definitely unimaginable for mankind. This was unprecedented. But humanity will not accept defeat from this virus. We have to not only protect ourselves but also move forward," Modi said.
According to the Health Ministry, the death toll due to COVID-19 rose to 2,293 and the positive cases climbed to 70,756, registering an increase of 87 deaths and 3,604 cases in the last 24 hours till 8am today.
The address comes a day after Modi held a marathon meeting with chief ministers of all states and Union territories on the ongoing lockdown to curb coronavirus. Almost all chief ministers pressed the prime minister on the need for reviving the economy seeking support to micro, small and medium enterprises, infrastructure projects such as power, easing of interest rates on loans and assured market access to agricultural produce.
Modi had announced the lockdown on March 24 and it has been extended twice since then, with the third phase scheduled to end on May 17.