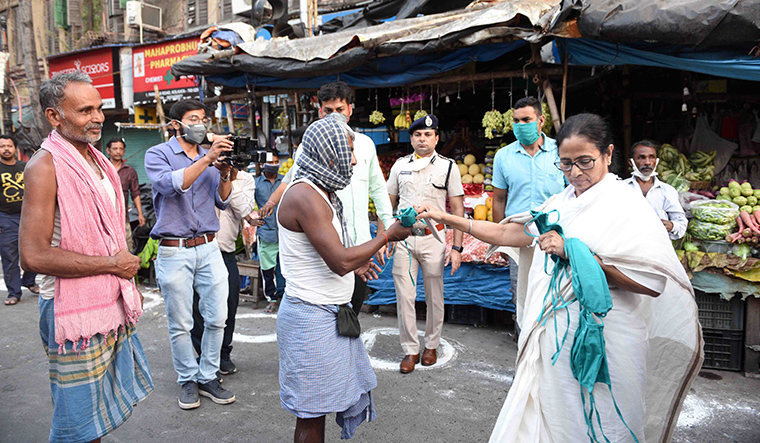 West Bengal Chief Minister Mamata Banerjee, on Wednesday, said that the lockdown restrictions imposed in the state is likely to stay till the end of May.
"The situation hasn't improved much. So, we have to continue with the lockdown for a few more days, at least till end of the May," she said.
West Bengal has 530 active COVID-19 cases, according to the state government. Twenty-two people have died so far, without any co-morbidities. However, the state is yet to reveal the total death toll.
Banerjee also said her government has made arrangements to bring back 2,500-3,000 students hailing from the state who are stranded in the coaching hub of Kota in Rajasthan and they are likely to reach in three days.
She said the students boarded buses for West Bengal this evening.
Banerjee added that people will have to wear masks at all times now.
"Government has taken over 51 private hospitals for COVID-19 treatment, the cost of which is being borne by the government," she said. She also requested other hospitals not to stop treatment of other diseases.
The chief minister said that from May 4, restrictions will be eased in green and orange zones where stand-alone shops of non-essential items will be opened.
"But there will be no relaxation for containment areas. The relaxation applies only to stand-alone shops and home delivery of non-essential items, not for market complexes or shopping malls," she said.
Stand-alone shops selling electronics goods, stationery items, books, paints, hardware products, laundry, tea, and paan will be allowed to open in green and orange zones, she said.
"Police will survey which shops will be opened. Hawkers' markets and shops on footpath won't be opened. Factories can open in green zones but they need to abide by all protocols," she said.
"We are yet to get clarifications from the Centre regarding its order last week on opening of shops in non-containment zones. Once we get that, we would take steps about extending the relaxation in some other areas," she added.
The chief minister said the Economic Task Force has prepared a six-month economic rehabilitation plan.
Regarding a report on the lack of hospital beds in Kolkata, Banerjee said there are 790 beds available for COVID-19 patients at present. She came down heavily on BJP for politicising the situation.
"There are some people who are trying to spread rumours that there are no beds in hospitals of Kolkata to get admitted. There are still 790 beds ready for COVID-19 patients in Kolkata. We have moved from one COVID lab to 14 labs. And the BJP is busy doing politics to malign us. This is not the time for politics," she said.
"The BJP is making a hue and cry over the attack on policemen in Howrah. What about assault on policemen in BJP-ruled states," she asked.
A mob attacked policemen who were enforcing lockdown to prevent the spread of coronavirus at Tikiapara in Howrah district, a red zone, on Tuesday.
"What happened in Tikiapara was wrong, it should not have happened and I have asked the police to take stern action. In Bengal, we treat everyone equally irrespective of their caste or religion. But those who are doing politics should come down on the road, clean the roads, stand beside the COVID-19 patients," she said.
Referring to the attacks on police personnel in BJP-governed Uttar Pradesh, she threatened to "open the Pandora's Box, if the saffron camp continues to needle the Bengal government".
(With PTI inputs)