Lockerbie bombing: Megrahi appeal bid allowed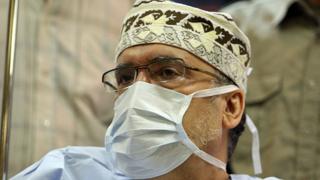 The conviction of Abdelbaset al-Megrahi over the Lockerbie bombing can be taken to a fresh appeal, a review has ruled.
The Libyan was found guilty in 2001 of the terrorist attack which claimed the lives of 270 people in 1988.
His family requested a posthumous appeal against the conviction almost three years ago.
The Scottish Criminal Case Review Commission (SCCRC) said the family was now entitled to seek an appeal against his conviction.
It has referred the case to the High Court of Justiciary.
Megrahi died in 2012 but the appeal bid was lodged on behalf of his family and supported by relatives of some of those killed in the disaster.
The commission said it had considered six grounds of review and concluded that a miscarriage of justice may have occurred by reason of "unreasonable verdict" and "non-disclosure".
It said that "no reasonable trial court could have accepted that Mr Megrahi was identified as the purchaser" of items that were inside a bomb suitcase used in the attack.
It also found that the Crown should have disclosed to the defence a statement and a police report concerning possession of photographs of Megrahi by a Maltese shopkeeper whose evidence helped to convict the Libyan.
The commission has published further details of its findings on its website.
Bill Matthews, who chairs the commission, said it had carried out a "rigorous and independent" review of the conviction taking into account fresh information which had become available.
"As the chair of the SCCRC in 2007 said when the case was originally referred, our function is not to decide upon the guilt or innocence of an applicant," he said.
"Our function is to examine the grounds of review identified and to decide whether any of the grounds meet the statutory test for a potential miscarriage."
How did we get here?
US and British investigators indicted Megrahi in 1991 but he was not handed over by the Libyans until April 1999.
May 2000 – A special trial under Scots law starts on neutral ground at Camp Zeist in the Netherlands.
31 January 2001 – Former Libyan intelligence officer Megrahi is found guilty of mass murder and jailed for life with a minimum term of 27 years.
March 2002 – Megrahi loses an appeal against his conviction.
September 2003 – The Scottish Criminal Cases Review Commission (SCCRC) is asked to investigate Megrahi's conviction.
June 2007 – The SCCRC recommends that Megrahi is granted a second appeal against his conviction.
18 August 2009 – Megrahi's move to drop his second appeal is accepted by judges at The High Court in Edinburgh.
20 August 2009 – Megrahi, who has terminal prostate cancer, is released from prison on compassionate grounds.
May 2012 – Megrahi dies at his home in Tripoli, aged 60.
July 2015 – Scottish judges rule that relatives of the Lockerbie bombing victims should not be allowed to pursue an appeal on Megrahi's behalf. Courts had previously ruled that only next of kin could proceed with a posthumous application.
July 2017 – Megrahi's family launched a new bid to appeal against his conviction.
Justice secretary Humza Yousaf said the decision showed that Scotland had a "justice system that works".
"We have the SCCRC there as a check and balance within our justice system," he said.
"Now it is really important that everybody allows the court of appeal to do the job that it is meant to do."
A statement issued by solicitor Aamer Anwar, representing Megrahi's family, said there was no "time limit" on justice.
It said there was finally hope in what it described as "a long journey for the truth".
It quoted Megrahi's son as saying: "Finally my family has hope that our father's name will be cleared, I am grateful to all those who have supported my family in their long struggle for justice."
'Very welcome'
The Crown Office and Procurator Fiscal Service said it would not be appropriate to comment on matters to be heard by the appeal court.
Assistant Chief Constable Angela McLaren added that Police Scotland was aware of the decision.
"This remains a live investigation and we are unable to comment further," she said.
The Justice for Megrahi campaign described the move as "very welcome".
It said concerns about the conviction had been "reinforced over the years as new information emerged".