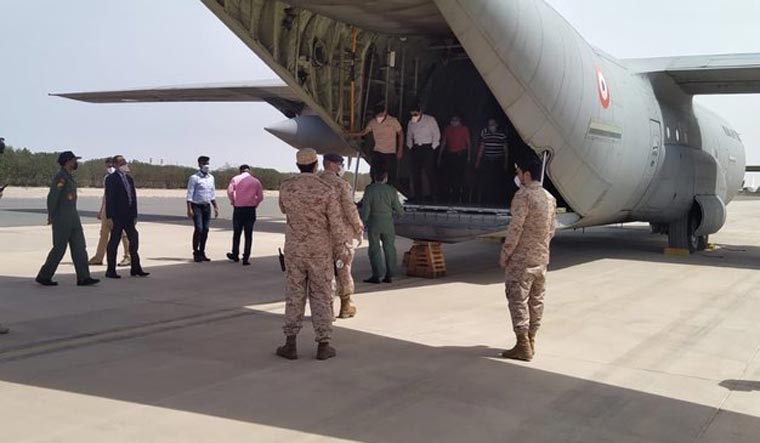 India's rapid response team of 15 doctors arrived in Kuwait on Saturday. The team will be in Kuwait for two weeks, assisting in the battle against COVID-19.
External Affairs Minister S. Jaishankar tweeted a picture of an Indian Air Force plane saying, "India's RAPID RESPONSE TEAM arrives in Kuwait. Follow up to the discussion between our two Prime Ministers on #COVID19. Underlines the special friendship between India and Kuwait.''
The team "will render medical assistance in testing and treatment of the afflicted persons and training their personnel. The rapid response team has been deputed at the request of the government of the State of Kuwait,'' a press release issued by the ministry of external affairs stated.
The rapid response team was sent following a phone call between Prime Minister Narendra Modi and his Kuwait counterpart Sheikh Sabah Al-Khaled Al-Hamad Al-Sabah. "The leaders agreed for a concerted and coordinated effort against the global pandemic. Subsequently, External Affairs Minister Dr S. Jaishankar and his Kuwaiti counterpart held a telephone conversation to discuss the prevailing situation in Kuwait and explore ways to further strengthen cooperation during these challenging times,'' according to the press release.
Currently, 993 people tested positive in Kuwait and one person died.
While India has sent medical aid to neighbouring countries in the recent weeks, this is the first time a team of Indian doctors has landed in another country to help. As part of PM Modi's reach out programme during the COVID-19 crisis, rapid response teams have been promised by India for any neighbouring country who would need them. A team of medics is expected to be sent to Nepal next, and to Maldives later.
Going beyond his effort to band together the SAARC countries, Modi has been reaching out to leaders across the world to suggest ways of cooperation to counter the pandemic. On Friday, he spoke with Prime Minister of Nepal, K.P Oli, and Japanese Prime Minister Shinzo Abe.