In Union Budget 2017, Focus On Rail Passengers' Safety, Cleanliness, Says Arun Jaitley: 10 Points
Express News Global
Finance Minister Arun Jaitley presents his fourth Budget today – first after November's notes ban.
Edited by Shuchi Shukla | Last Updated: February 01, 2017 12:13 (IST)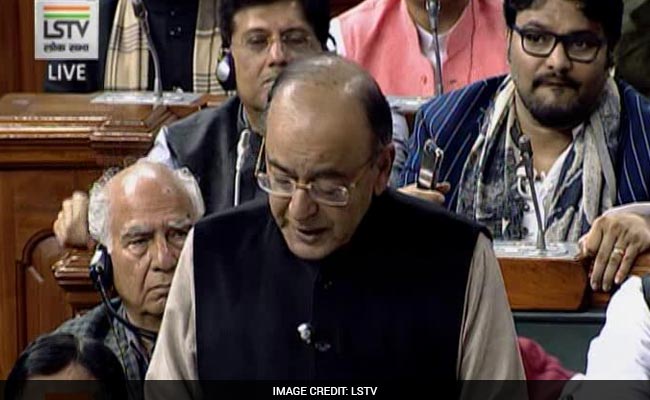 New Delhi:  Finance Minister Arun Jaitley began presenting his fourth Budget with a strong defence of demonetisation as a "bold and decisive measure" that "seeks to create a GDP which is bigger, cleaner and real." The adverse impact of the notes ban on the economy would not spill over to the next year, the Finance Minister promised, stating the pace of demonetisation had picked up. He described India as one of the few transformative economies that "stands out as a bright spot".
Arun Jaitley's first budget after the notes ban in 10 points:
"We are seen as an engine of global growth," the Finance Minister said, pointing out that India is now the 6th largest manufacturing country up from 9th and is expected to be among the fastest growing major economies this year
The government, he said, has ensured fiscal consolidation without cutting back on public investments. "India's Current Account Deficit declined last year, Foreign Direct Investment went up and forex reserves have reached 361 billion USD," Mr Jaitley said.
This Budget's agenda, Mr Jaitley said, is to "transform, energise and clean India." He defined 10 focus areas, with farmers, rural India, the poor and underprivileged and youth topping the list.
Agriculture, said Mr Jaitley, is expected to grow at 4.1 per cent, announcing a number of measures to benefit farmers. The government, he said, is committed to doubling the income of farmers.
Mr Jaitley said advancing the Budget by a month would help government departments start schemes right from the start of the fiscal year. He also said the merger of the Rail Budget with the Union Budget was a historic step, promising that the autonomy of the Railways would be maintained. The opposition has alleged that the government advanced the Budget to be able to offer sops before elections in five states this month.
Stock markets opened higher on Wednesday anticipating big announcements from the Finance Minister to support the economy after November's notes ban. This is Mr Jaitley's fourth Budget and the first after demonetisation.
Mr Jaitley is expected to boost spending and ease back on cutting the fiscal deficit, as he seeks to lift growth which has been hit by Prime Minister Narendra Modi's notes ban. The move, aimed at eliminating black money, took out 86 percent of the county's cash in circulation, hitting consumer demand, disrupting supply chains and hurting capital investments.
Economists predict a fiscal deficit of 3.3 per cent of the GDP for 2017/18. That would be higher than the 3 per cent pledged earlier but lower than 3.5 per cent that the government has budgeted for the year soon to end. Rating agencies will not be kind.
The government has said in its report card, the Economic Survey, that growth could dip to as low as 6.5 percent in the current fiscal year ending March, before picking up in the next fiscal year to between 6.75 and 7.5 percent.
Arvind Subramanian, Mr Jaitley's chief economic adviser, on Tuesday advocated slashing personal income tax and accelerating cuts in corporate tax rates. He cautioned, however, against pursuing debt-fueled fiscal expansion.