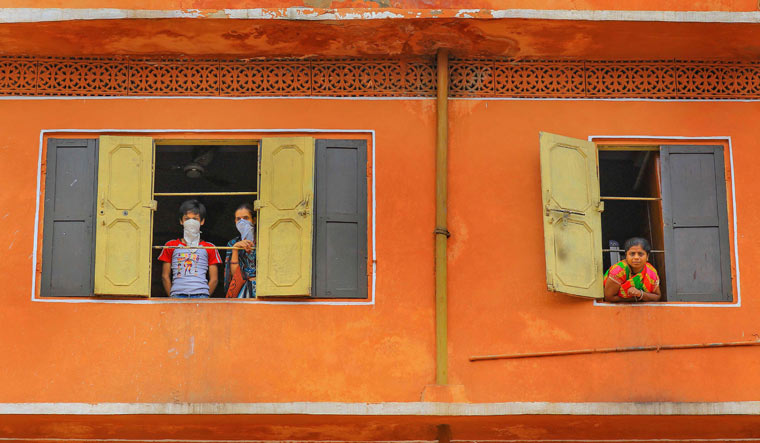 Union Health Secretary Preeti Sudan, in a letter to chief secretaries of all states and Union Territories, designated districts into Red, Orange and Green Zones. "Since recovery rates have gone up, districts are now being designated across various zones duly broad-basing the criteria," Sudan wrote, reported ANI. "The classification is multi-factorial and takes into consideration incidences of cases, doubling rates, extent of testing and surveillance feedback. Some states have raised issues on certain districts being included in red zone, but this is a dynamic list and will be revised on a weekly basis," according to the letter.
According to the letter, Andhra Pradesh and Bihar each have 5 districts each in the red zone, Delhi has 11, Jammu and Kashmir has 4, Jharkhand has 1, Karnataka has 3, Kerala has 2, Maharashtra has 14, Odisha has 3, Tamil Nadu has 12, Uttar Pradesh has 19 and West Bengal has 10.
There are a total of 130 Red Zones, 284 Orange Zones and 319 Green Zones across the country right now.
"A district will be considered under Green Zone, if there are no confirmed cases so far or there is no reported case since last 21 days in the district," according to Sudan. "In buffer zones, extensive surveillance for cases through monitoring of ILI/SARI cases in health facilities has to be taken up. States are requested to delineate the containment zones and buffer zones in the identified red and orange zone districts and notify the same," she said, reported the news agency ANI.
Cluster containment strategies will be implemented. That would include would include geographic quarantine, social distancing measures, enhanced active surveillance, testing all suspected cases, isolation of cases, quarantine of contacts and risk communication to create awareness among public on preventive public health measures.
The full list of all districts in the Red Zone:
South Andamans (Andaman And Nicobar Islands)
Kurnool (Andhra Pradesh)
Guntur (Andhra Pradesh)
Krishna (Andhra Pradesh)
Chittoor (Andhra Pradesh)
Spsr Nellore (Andhra Pradesh)
Munger (Bihar)
Patna (Bihar)
Rohtas (Bihar)
Buxar (Bihar)
Gaya (Bihar)
Chandigarh (Chandigarh)
Raipur (Chhattisgarh)
South East (Delhi)
Central (Delhi)
North (Delhi)
South (Delhi)
North East (Delhi)
West (Delhi)
Shahdara (Delhi)
East (Delhi)
New Delhi (Delhi)
North West (Delhi)
South West (Delhi)
Surat (Gujarat)
Vadodara (Gujarat)
Anand (Gujarat)
Banaskantha (Gujarat)
Panchmahals (Gujarat)
Bhavnagar (Gujarat)
Gandhinagar (Gujarat)
ArvaIli (Gujarat)
Bandipora (Jammu and Kashmir)
Shopian (Jammu and Kashmir)
Anantnag (Jammu and Kashmir)
Srinagar (Jammu and Kashmir)
Sonipat (Haryana)
Faridabad (Haryana)
Ranchi (Jharkhand)
Bengaluru Urban (Karnataka)
Mysuru (Karnataka)
Bengaluru Rural (Karnataka)
Kannur (Kerala)
Kottayam (Kerala)
Indore (Madhya Pradesh)
Bhopal (Madhya Pradesh)
Ujjain (Madhya Pradesh)
Jabalpur (Madhya Pradesh)
Dhar (Madhya Pradesh)
Barwani (Madhya Pradesh)
East Nimar (Madhya Pradesh)
Dewas (Madhya Pradesh)
Gwalior (Madhya Pradesh)
Mumbai (Maharashtra)
Pune (Maharashtra)
Thane (Maharashtra)
Nashik (Maharashtra)
Palghar (Maharashtra)
Nagpur (Maharashtra)
Solapur (Maharashtra)
Yavatmal (Maharashtra)
Aurangabad (Maharashtra)
Satara (Maharashtra)
Dhule (Maharashtra)
Akola (Maharashtra)
Jalgaon (Maharashtra)
Mumbai Suburban (Maharashtra)
Jajapur (Odisha)
Bhadrak (Odisha)
Baleshwar (Odisha)
Jalandhar (Punjab)
Patiala (Punjab)
Ludhiana (Punjab)
Jaipur (Rajasthan)
Jodhpur (Rajasthan)
Kota (Rajasthan)
Ajmer (Rajasthan)
Bharatpur (Rajasthan)
Nagaur (Rajasthan)
Banswara (Rajasthan)
Jhalawar (Rajasthan)
Chennai (Tamil Nadu)
Madurai (Tamil Nadu)
Namakkal (Tamil Nadu)
Thanjavur (Tamil Nadu)
Chengalpattu (Tamil Nadu)
Thiruvallur (Tamil Nadu)
Tiruppur (Tamil Nadu)
Ranipet (Tamil Nadu)
Virudhunagar (Tamil Nadu)
Thiruvarur (Tamil Nadu)
VeIIore (Tamil Nadu)
Kanchipuram (Tamil Nadu)
Hyderabad (Telangana)
Suryapet (Telangana)
Ranga Reddy (Telangana)
MedchalMalkajgiri (Telangana)
Vikarabad (Telangana)
Warangal Urban (Telangana)
Agra (Uttar Pradesh)
Lucknow (Uttar Pradesh)
Saharanpur (Uttar Pradesh)
Kanpur Nagar (Uttar Pradesh)
Moradabad (Uttar Pradesh)
Firozabad (Uttar Pradesh)
Gautam Buddha Nagar (Uttar Pradesh)
Bulandshahr (Uttar Pradesh)
Meerut (Uttar Pradesh)
Rae Bareli (Uttar Pradesh)
Varanasi (Uttar Pradesh)
Bijnor (Uttar Pradesh)
Amroha (Uttar Pradesh)
Sant Kabeer Nagar (Uttar Pradesh)
Aligarh (Uttar Pradesh)
Muzaffarnagar (Uttar Pradesh)
Rampur (Uttar Pradesh)
Mathura (Uttar Pradesh)
Bareilly (Uttar Pradesh)
Haridwar (Uttarakhand)
Kolkata (West Bengal)
Howrah (West Bengal)
24 Paraganas North (West Bengal)
24 Paraganas South (West Bengal)
Medinipur West (West Bengal)
Medinipur East (West Bengal)
Darjeeling (West Bengal)
Jalpaiguri (West Bengal)
Kalimpong (West Bengal)
Maldah (West Bengal)