Five people killed in shooting at Fort Lauderdale airport, suspect in custody
Express News Global
Published: January 06, 2017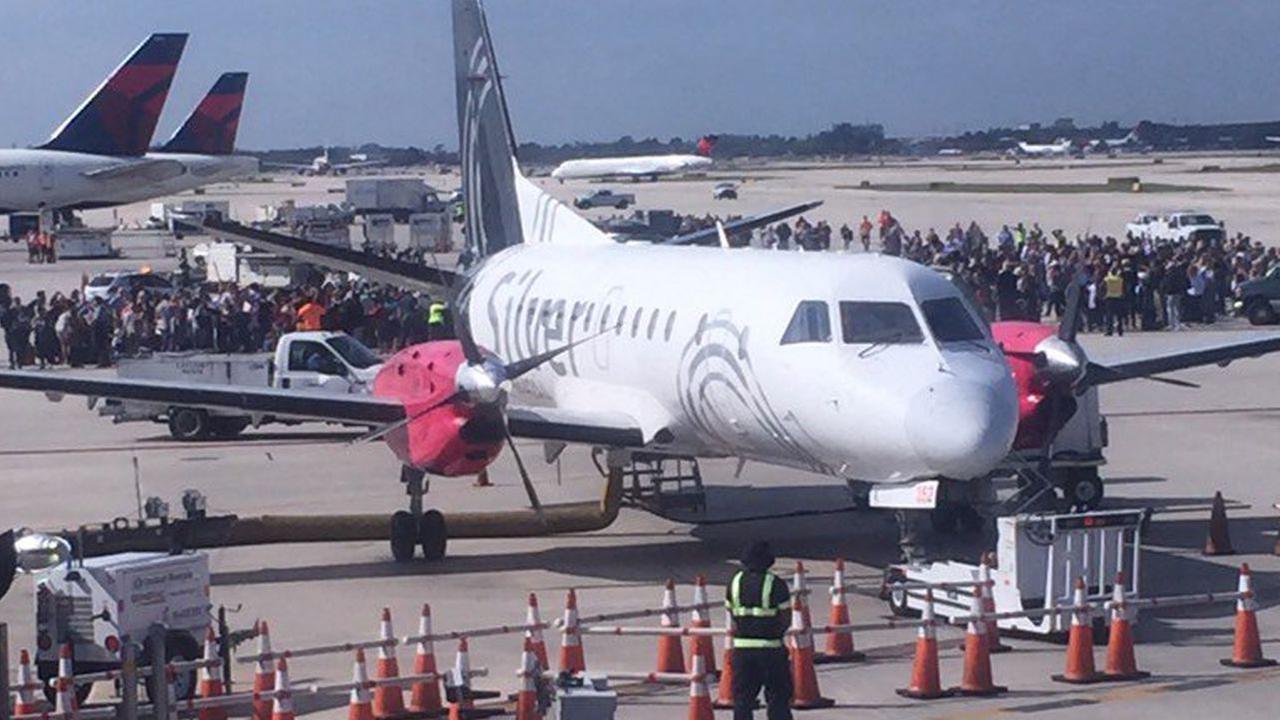 Police said five people were killed in a shooting Friday afternoon at the Fort Lauderdale international airport that also sent others to the hospital. Officials said the suspect is in custody. Police said five people were killed in a shooting Friday afternoon at the Fort Lauderdale international airport that also sent others to the hospital. (Thomas Johnson/The Washington Post)
Police said five people were killed in a shooting Friday afternoon at the Fort Lauderdale international airport that also sent several others to the hospital.
The suspected shooter is in custody, according to a spokeswoman for the Broward County Sheriff's Department, which was on scene at the airport.
Authorities said they first received a call about shots fired just before 1 p.m. The sheriff's office also said that eight people had been injured and taken to an area hospital, but a spokeswoman said she did not know if all of these people were wounded by gunfire. A local mayor told CNN that the injury toll was up to 13 later on Friday afternoon.
Shortly before 3 p.m., police said they were searching the airport following "unconfirmed reports" of additional gunfire somewhere at the facility.  Reporters and people on social media shared accounts from the scene around at around 2:30 p.m. Friday of another situation occurring at a different terminal from the initial shooting.
Other journalists shared scenes suggesting a frantic scene continuing to unfold at the airport. According to some of these reports, alarms were heard as people were seen running out of a nearby terminal.
The Transportation Security Administration also posted on Twitter a short time earlier about an active shooter at the airport, but an official familiar with the matter said this message related to the earlier shooting that left five dead.
All flights were suspended in the wake of the shooting before 1 p.m., and the airport was closed, airport officials said. The Fort Lauderdale-Hollywood International Airport posted on Twitter about "an ongoing incident" at the baggage claims in one of the terminals, but did not provide further information.
Airport representatives could not be immediately reached for further comment.
In Ft. Lauderdale. Monitoring the shooting with law enforcement. Spoke to

@realDonaldTrump

, FL airports about security and safety.
The initial incident occurred in the baggage claim at the the second terminal, which is home to departures and arrivals for Delta and Air Canada, according to the airport.
Footage from the scene of the initial at Terminal 2 showed a chaotic, gruesome scene inside a baggage scene normally teeming with people. (Warning: This footage is graphic.)
The Bureau of Alcohol, Tobacco, Firearms and Explosives responded to the scene Friday, according to authorities. Fort Lauderdale officials also said they were helping with the law enforcement response at the airport, which is operated by Broward County.
"We have our units on site and around the perimeter to provide assistance and support, and we remain ready, willing, and able to provide additional assistance, support and resources," Fort Lauderdale Mayor John P. "Jack" Seller said in a statement. "Our community extends its thoughts, prayers, and support to the victims and their families."
The Federal Aviation Administration said shortly after 3 p.m. that flights were not being allowed to head to or from Fort Lauderdale, with some planes being diverted elsewhere in Florida. All flights originally scheduled for Fort Lauderdale have been grounded, according to the agency.
Live video feeds from the scene showed swarms of police cars with their sirens flashing at the airport, one of the busiest aviation hubs in the country. Former White House press secretary Ari Fleischer posted on Twitter that he was at the airport and saw people running after gunshots were fired:
I'm at the Ft. Lauderdale Airport. Shots have been fired. Everyone is running.

— Ari Fleischer (@AriFleischer)

January 6, 2017
Everyone evacuated off neighboring plane after reported shooting in baggage. We're sitting on tarmac. Florida!

pic.twitter.com/4h5kRTECso
This is a developing story and will be updated. First published: 1:27 p.m.