Coronavirus: California declares emergency after death
California has declared a state of emergency after announcing its first coronavirus death, bringing the US death toll from the disease to 11.
The 71-year-old man, who died in a hospital near Sacramento, had underlying health conditions and had been on a cruise ship, said officials.
The White House moved on Wednesday to expand testing nationwide for the disease.
There are now at least 150 reported US patients with Covid-19 in 16 states.
Authorities have confirmed more than 92,000 cases of the virus worldwide, of which more than 80,000 are in China. More than 3,000 people have died globally, the vast majority in China.
Ten of the 11 US deaths were in Washington state, but the outbreak has also flared up in Texas and Nebraska.
Washington and Florida both declared states of emergency over the weekend to help prevent the coronavirus.
The California man who died is believed to have been exposed to the disease while travelling last month on a Princess Cruise ship that departed from San Francisco and visited Mexico.
The vessel has been ordered to return to port in San Francisco.
The ship is operated by Carnival, whose Diamond Princess cruise liner was quarantined last month after dozens of passengers tested positive for Covid-19 as it docked in Japan.
Testing speeded up
US Vice-President Mike Pence said on Wednesday that any American can be tested for the coronavirus if ordered by a doctor.
Mr Pence, appointed by President Donald Trump to lead the US outbreak response, also said that the White House will begin on-camera briefings on the virus.
Some health officials have accused the Trump administration of a slow-footed response to the outbreak.
Coronavirus: A visual guide to the outbreak
World in 'uncharted territory' on coronavirus
How worried should US be over coronavirus?
Mr Pence said the US Centers for Disease Control and Prevention would lift existing restrictions on tests and provide new guidelines for speeding up exams for those who fear they are infected.
What do I need to know about the coronavirus?
WHAT ARE THE SYMPTOMS? A simple guide
WAYS TO PREVENT CATCHING IT: How to wash your hands
WHERE ARE WE WITH A VACCINE? Progress so far
A VISUAL GUIDE TO THE OUTBREAK: Virus maps and charts
"When I talked to some state officials, there was a sense that the tests would not be administered to people that were mildly symptomatic," Mr Pence said. "We're issuing clear guidance that, subject to doctors' orders, any American can be tested."
But some question how this promise will be kept, as public health laboratories insist their capacity for processing the tests is restricted.
There is also a question of cost, amid reports of uninsured Americans paying upwards of $1,000 (£780) for a test.
The US House of Representatives approved $8.3bn in emergency aid on Wednesday to combat the coronavirus.
One congressman, Matt Gaetz of Florida, took to the chamber floor for the vote wearing a gas mask, for reasons that remain unclear.
Skip Twitter post by @RepMattGaetz
Reviewing the coronavirus supplemental appropriation and preparing to go vote. pic.twitter.com/wjJ4YY4VZz

— Rep. Matt Gaetz (@RepMattGaetz) March 4, 2020
Report
End of Twitter post by @RepMattGaetz
The challenge faced by the US authorities in containing the virus was highlighted by a cluster of cases in a New York City suburb.
After a 50-year-old lawyer who commutes to midtown Manhattan fell ill with the virus, his wife and two children also tested positive. So did a neighbour who drove him to the hospital along with another friend, his wife and three of their children.
Now about 1,000 people have self-quarantined in Westchester county, where the attorney lives in the city of New Rochelle.
Since February, the US government has prohibited entry to foreign nationals who have visited China – the epicentre of the outbreak – in the past 14 days.
The US Travel Association said on Tuesday that it expected international inbound travel to the country to drop 6% between now and May – the largest dip in global visits since the 2008 financial crisis. About 79.3 million international visitors travelled to the US last year.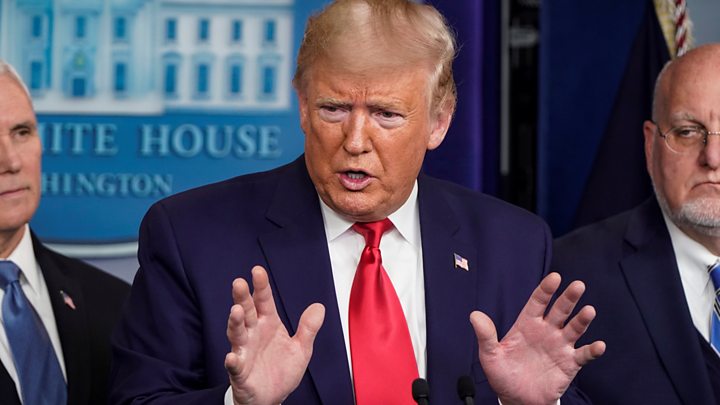 The worst-hit country outside China is South Korea, which on Wednesday reported 516 new confirmed infections, bringing the total to 5,328. The country's death toll stands at 35.
The World Bank has committed $12bn in aid for developing nations grappling with the spread of the coronavirus, following warnings that economic slowdowns from the outbreak could push countries into recession.