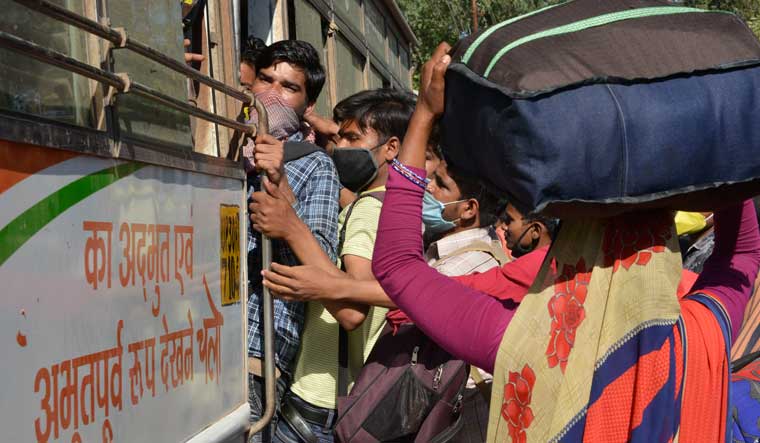 In a major relief to thousands of migrant workers stuck in various states due to the coronavirus-induced lockdown, the Union government on Wednesday directed states and Union territories to facilitate inter-state movement of the stranded people, including migrant labourers.
As per the guidelines, all persons travelling from one state to another should be screened both at the source and the destination. He or she should also be kept in home or institutional quarantine on arrival, said a statement issued by the home ministry.
ALSO READ: Chief ministers seek fiscal stimulus, solution to migrant crisis in meeting with PM
It noted that due to the lockdown, several migrant workers, students, pilgrims and tourists are stranded at different places of the country.
"All states / UTs should designate nodal authorities and develop stranded protocols for receiving and sending such stranded persons. The nodal authorities shall also register the stranded persons within their states or UTs," the statement said.
It said if a group of stranded persons wish to move from one state to another, the sending and receiving states should consult each other and mutually agree to the movement by road.
The MHA further said that buses should be used for the transport of people and the vehicle should be sanitised and social distancing norms should be followed.
On arrival, these people should be kept in quarantine and periodic health check ups should be conducted on them. They should also be encouraged to use the Aarogya Setu app so that their health status can be monitored and tracked, the ministry said.
The decision of the central government will be a big relief to several thousands migrant workers, students, tourists and other people who are stranded in different parts of the country.
Several states, including Uttar Pradesh, Uttarakhand, Gujarat, Punjab, Assam, Chhattisgarh and Rajasthan, have brought back thousands of their students and tourists stuck in different parts of the country by bus. However, most of the migrant workers, tourists and other people continue to stuck in their places of work or shelter homes.
There have been at least three protests by migrant workers in Surat in Gujarat in recent weeks as they have been demanding passage to their home states. A few hundred people had also gathered about a fortnight ago in Bandra in Mumbai after being influenced by rumours that trains would ply to North India.
In the beginning of the first phase of the lockdown, thousands of the migrant workers have started moving by foot from cities like Delhi, Mumbai and Hyderabad to their respective places, creating a humanitarian crisis.
This led to the home ministry directing the state governments not to allow the migrants to move, arrange shelter homes for them and provide them food. The states were also allowed to even use money from the National Disaster Response Fund for providing food and shelter to the migrant workers.