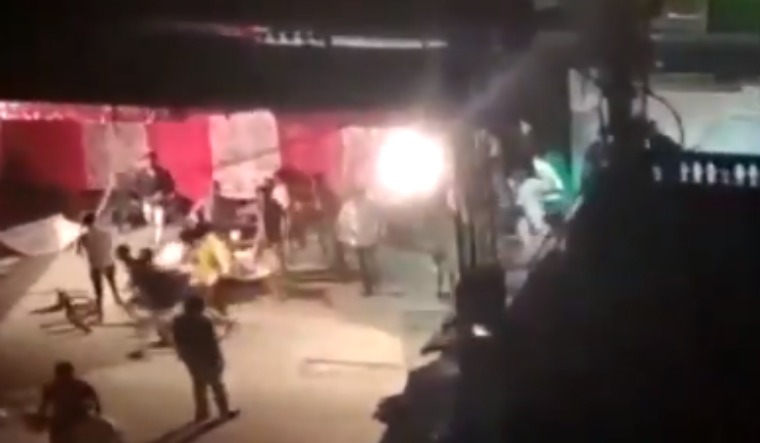 The Padarayanapura locality in Bengaluru city, identified as a COVID-19 hotspot, is on high alert after a mob vandalised barricades and a police checkpost and attacked and chased away health workers and the police on Sunday night.
The local residents were allegedly opposed to the government shifting the secondary contacts of the COVID-19 cases from the area to an institutional quarantine facility. The police had to rush additional forces to the spot to control the situation.
At least 54 accused have been taken into custody by the JJ Nagar police.
Four FIRs under the IPC sections 353 and 307 and NDMA 352, 324 and 201 have been filed so far.
On April 10, the Bruhat Bengaluru Mahanagara Palike (BBMP) had sealed two neighbouring civic wards—Bapujinagara (134) and Padarayanapura (135)—after five persons tested positive for COVID-19. Three of the infected persons had visited Nizamuddin in Delhi and also Ajmer Dargah in March.
Additional Commissioner of Police (West) Soumendu Mukherjee said, "At least 54 persons, including a woman, have been taken into custody based on the video footage of the incident. The arrests will continue. The investigation will reveal who all were involved in the incident. Four FIRs have been lodged at Jagjeevanram Nagar police station."
According to police, BBMP health officials had identified 58 secondary contacts to shift them to institutional quarantine. After 17 contacts were shifted to institutional quarantine, the officials came back to shift another batch of 17 persons. But local residents objected to it. They insisted that they be tested at home. Soon, the residents started chasing away the health workers.
The CCTVs had been destroyed and streetlights were switched off when the vandalism took place, which has given rise to suspicion that the attack was pre-planned, the police sources added.
The mobs simultaneously launched attacks across the civic ward. The quarantine team was attacked and the police checkpost and pandal were vandalised. The barricades blocking the entry to the locality following the seal-down were destroyed. The BBMP and police officials were attacked with stones, lathis and rods, added sources.
BJP leaders demanded action against the miscreants. "Don't spare them. There is no need to tolerate this behaviour. If miscreants are allowed to have their own way, what is the use of the countrywide lockdown? They are not innocents. The CM should initiate stringent action," said Kannada and Culture Minister C.T. Ravi.