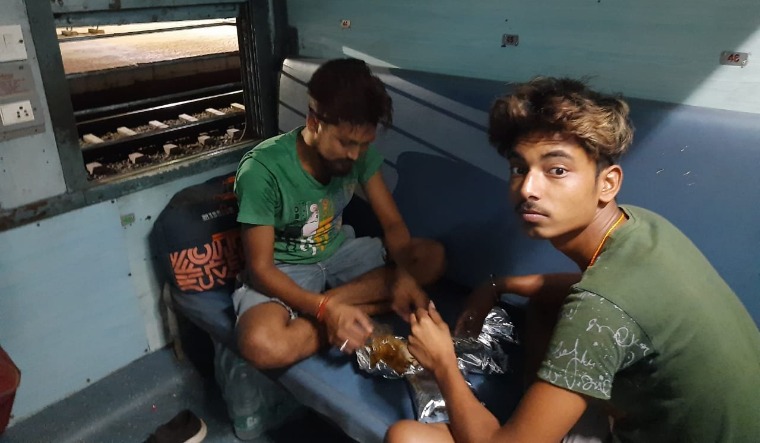 Two days after the ministry of home affairs announced guidelines for states to bring back their stranded students and migrant labourers, the first train carrying migrants from Lingampally in Telangana to Hatia in Jharkhand started at 5am on Friday.
According to a Railway official, a special train was run after the Telangana government made a request. Moreover, approval was also taken from the ministry of home affairs.
The MHA notification on Wednesday allowed states to make arrangements to bring back their stranded migrant workers, pilgrims, tourists and students. But the inter-state movement was allowed only on buses as Indian Railways was not operating its passenger trains due to the nationwide lockdown.
A.P. Durai, former director general of Railway Protection Force, called the Indian Railways move to run a special train as much needed but a bit belated.
"It is certainty a good move and has to be multiplied. Indian Railways has enough resources to run special trains for stranded workers by maintaining crowd management. We have enough security personnel to maintain discipline by the passengers," Durai noted. He also claimed that the Army can also be roped in, if required, to avoid mobbing or overcrowding in the station as well in the train.
He added Friday's experience will certainly encourage Railway authorities to plan more special trains.
"I think Railways should run special trains for a week free of charge with appropriate passes and rules of distancing. And states could run buses from the alighting stations to the native places of the workers," he added.
Durai further compared running special train to flying aircraft for stranded Indians, arguing that the working class also deserved respect and rescue missions.
"Today morning, a one-off special train was run from Lingampalli to Hatia on request of the state government of Telangana and as per the directions of ministry of Railways. All necessary precautions such as prior screening of passengers, maintaining of social distancing at station and in the train were followed," an Indian Railways official said.
The train had 24 coaches carrying a total of 1,200 passengers. But Railways authority made it clear that this was only a "one-off special train".
"Any further trains shall be planned only as per the directions of ministry of Railways and on request from both the originating and destination state governments," the Indian Railways official added.
After the Union government's decision to allow movement of migrant workers, Indian Railways started working on a proposal to operate 400 special trains for the movement of stranded migrants across the country.
Nearly a fortnight back, two special military trains were operated to bring back stranded troops of Indian Army to meet the operational requirements of the northern and eastern borders.