19 Dead After Boat Carrying 40 Capsizes In River Ganga In Bihar's Patna, Many Still Missing
Express News Global
Published: January 14, 2017 23:28 IST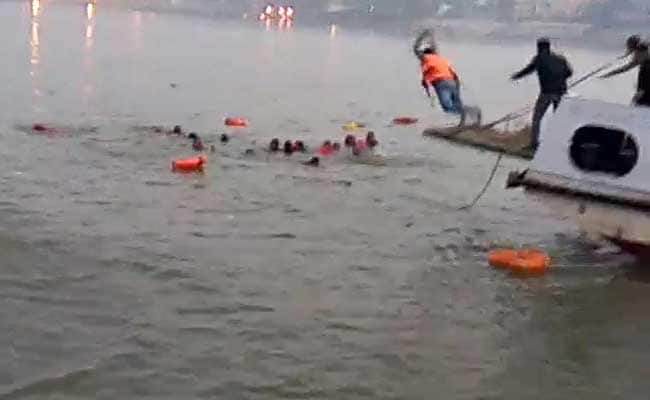 PATNA: 
Divers have recovered 19 bodies, including that of minors, after a boat ferrying 40 capsized in the Ganga river in Bihar's Patna. 10 were rescued and the search for missing persons is still on.
Of those rescued, six people have been admitted in the Patna Medical College and Hospital.
"So far 19 persons have been reported to be dead in the boat tragedy," Pratyay Amrit, Principal Secretary of Disaster Management department told news agency Press Trust of India.
The vessel, which had taken people for a free ride from the Ganga Ghat, was reportedly overcrowded and capsized at around 6 pm.
In dramatic visuals, rescuers could be seen diving to save the people. Locals are also seen approaching the spot on other boats to help.
Bihar Chief Minister Nitish Kumar has asked Patna's District Magistrate Sanjay Aggarwal to look into the lapses that led to the incident.
Mr Kumar has also ordered Patna district administration to provide compensation to the families of the dead.
People had gathered at Patna's Ganga Diara to witness a three-day kite festival which is held every year on the occasion of Makar Sankranti. Further festivities in the Ganga diara area have been called off.
(With inputs from PTI and IANS)